TETRIS SUPER JACKPOTS™ SLOT MACHINE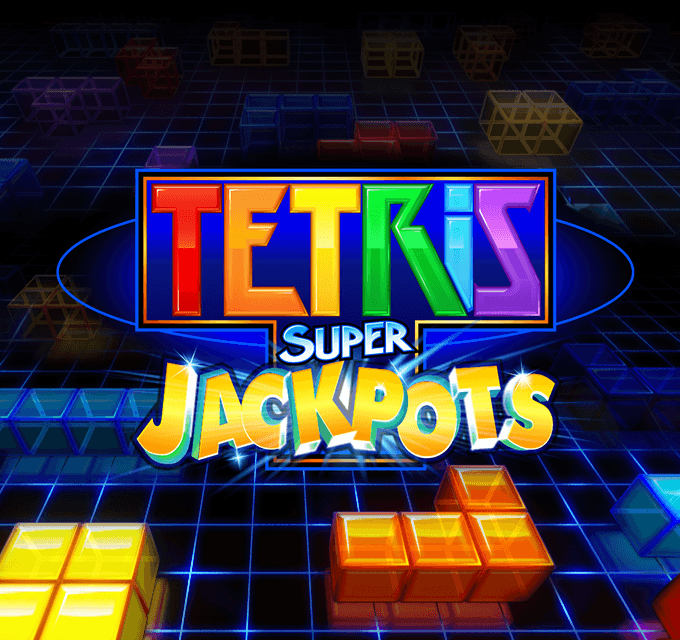 WHAT THE TETRIS SUPER JACKPOTS SLOT GAME IS ALL ABOUT
Since its creation in 1984, Tetris has been one of the biggest successes in the history of video games with more than 170 million copies sold. The block-connecting fun can now be found in slot machine format. The original game featured some very basic graphics, but this game ramps that up considerably. Players spinning the reels will find recognizable shapes from the original game in four different colors as well as traditional playing card denominations from 10 to Ace.

Line up at least three Tetris symbols in the right combinations and earn some winning credits (all the same regardless of color). One exciting addition is the "Tetrimino Feature," which begins when Tetrimino (Tetris) symbols appear. The feature expands above the reels with more Tetrimino symbols adding to what's already revealed on the other reels. This is a nice addition offering a chance at some extra winnings and building on the gameplay of the traditional Tetris game that many players who enjoyed the original will recognize.
There's more fun to be had! Make sure to check out all our other free slot games.
HOW TO PLAY TETRIS SUPER JACKPOTS™ SLOTS
5
CHOOSE "MAX BET" TO QUALIFY FOR JACKPOT
BONUSES AND GAME FEATURES
As the name of the game implies, some nice jackpots and bonuses are a major part of this game. First, players simply need to find three Tetris on the reels to score 10 Free Spins. Those finding this feature can then find a new Wild symbol to help add to their winnings. The WIld can substitute for other symbols to make better combinations. Players will also find the Tetrimino Feature more often during bonus rounds.
Beyond the Free Spins, players fittingly have some opportunities to land some big jackpots as well. There are several jackpots available and these can only be won during the Free Spins portion of the game. You'll need to accumulate some gold Tetromino symbols to make that happen. Players can win Mini (50x), Minor (250x), and Major (2,500x) jackpots if they're lucky enough to make this happen.
Those looking for a bit of some throwback video gaming mixed with some modern slot machine play should check out Play Tetris Super Jackpot. The technology has been greatly advanced since those days of lining up blocks on that Nintendo Gameboy. Getting those shapes just right in this version can also lead to more winnings than just completed lines and beating a friend. A big payday might await instead.
Don't quit the free slot action with bonus benefits! Discover all our other free slots with bonuses.