A few things instantly stand out when taking a seat at a slot machine or grabbing that mobile phone to play online. The reels are certainly a key part of the game, but those symbols on each reel are also what many players are attracted to. Today's slot developers work to appeal to a broad range of casino players looking to win at the slots.
That includes plenty of high-tech sound and graphics as well as unique features that seem to offer players numerous ways to win. These manufacturers also feature every slot theme and character imaginable and make use of these as part of the symbols on each machine.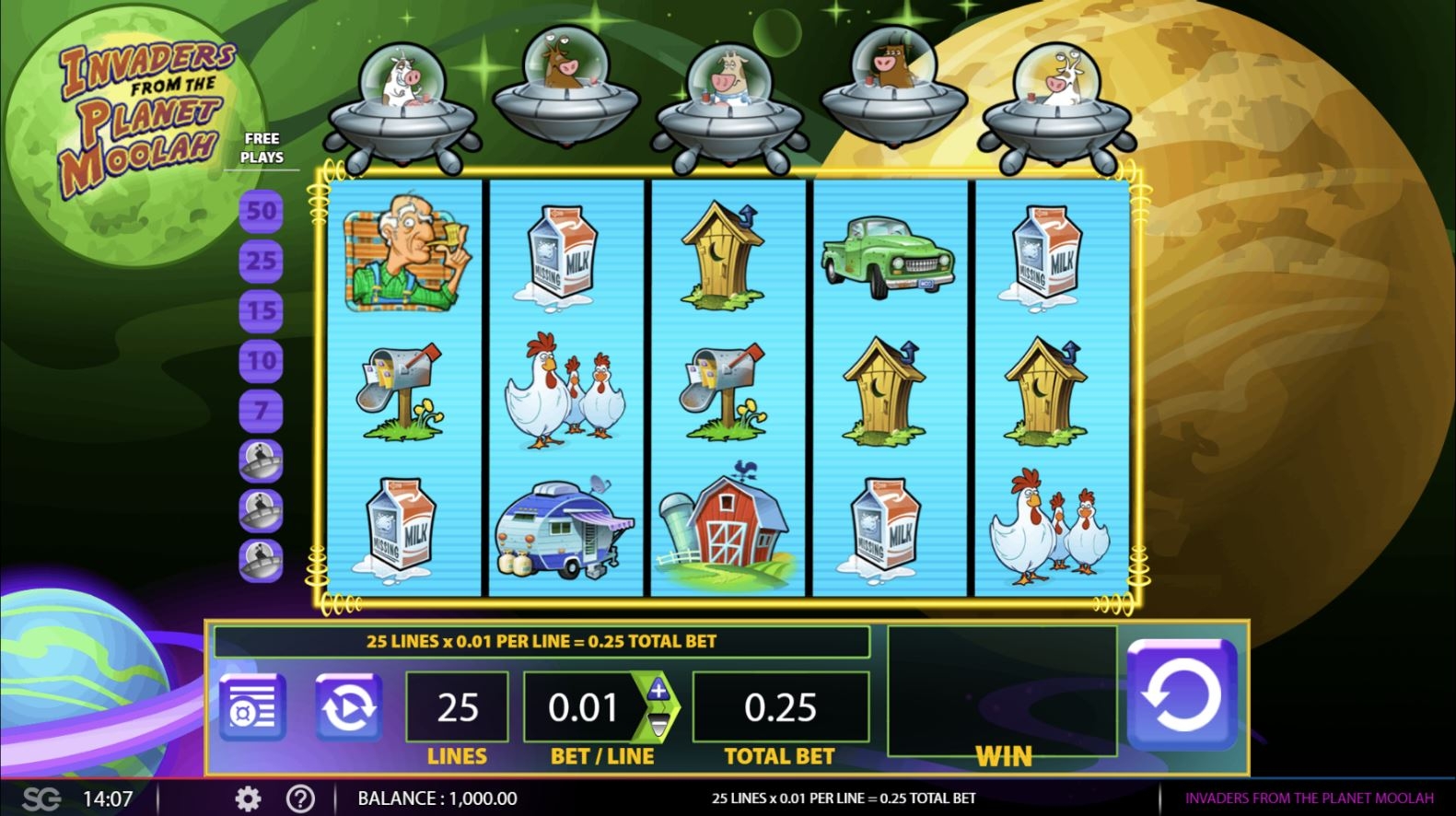 Invaders from the planet moolah™ slot machine
Along with numerous characters and other unique images, designs, and patterns spinning on those reels, developers also work in some additional slot symbols to add even more fun and winning options to each game. Designers also still work in classic slot symbols, and that creativity carries over to online slots and social gaming platforms.

Continue reading to learn more about slot machine symbols and their significance to these games.
THE MEANING BEHIND SLOT MACHINE SYMBOLS
Each symbol on a slot machine is not just for decorative or entertaining purposes; they have specific meanings and implications that can greatly influence a player's chances of winning. Over the years, as slot machines evolved, so did the variety and significance of their symbols.
Fruits: Originating from the flavor of gum one could win, these colorful icons are often associated with traditional or classic slots. Cherries might pay out even if only one or two appear on a payline, whereas other symbols require a set of three or more.

Bells: Originating from the Liberty Bell machine, bells often act as high-paying symbols today.

Bars: Previously a representation of gum packets, the bar symbol is now synonymous with slots, with single, double, or triple bars indicating different payout levels.

Sevens: Universally considered lucky, sevens in slot machines typically offer large payouts due to various cultural and religious beliefs.

Playing Cards and Suits: Often denoting low-paying symbols, playing cards influenced the very names of slot games in certain regions.

Wild and Scatter Symbols: Primarily seen in video slot games, wild symbols can substitute for others to create a winning combo, and scatter symbols can provide free spins or activate bonus rounds.
Modern slot machine symbols also delve into realms of creativity and imagination. Many contemporary slots feature symbols aligned with a game's specific theme or narrative, enriching gameplay with special features, bonus rounds, and interactive mini-games.
History of Slot Machine Symbols
The creation of slot machines can be traced back to 1887 when German immigrant Charles Fey introduced the concept in San Francisco. His invention, the Liberty Bell game, featured three reels where players could insert a nickel to play. Symbols such as fruits, playing cards, and bells decorated these reels, with specific combinations offering rewards like free cigars or drinks, marking the birth of "comps" for slot players.
Fey's designs, while elementary by modern standards, rapidly gained popularity, laying the groundwork for a billion-dollar industry. Many of the early symbols remain relevant in today's machines. However, during the Prohibition era, to sidestep gambling restrictions, slot machines mimicked vending machines. They employed symbols like fruits, which corresponded to gum flavors, as a covert means to indicate the flavor of gum a winner would receive. This clever disguise allowed these machines to operate as "trade stimulators" rather than gambling devices.
For instance, Chicago's Stephen Harper Mills in 1907 produced machines that added the bar symbol, originally linked to a chewing gum packet logo. Such innovations showcase how the industry adapted to circumvent legal challenges.
Playing cards' prominence as symbols in Australia and New Zealand gave rise to the nickname "pokies." In contrast, England's affinity for fruit symbols led to the terms "fruit machines" or "fruities."
Today, the number 7, imbued with its cultural reputation as a lucky symbol, stands as a testament to the early slot symbols' enduring appeal.
MOST COMMON SYMBOLS ON SLOT MACHINES
Slot machines have showcased a myriad of symbols over their long history. While many new symbols have been introduced, especially with themed slot games, certain symbols have withstood the test of time and are commonly seen across various machines.
Here's a complete look at classic slot machine symbols that still often appear in games today:
Fruits: The quintessential symbols of many slot machines, fruit icons have a storied history dating back to the earliest slot games. Typical fruit symbols include cherries, lemons, oranges, plums, grapes, and watermelons. They're so iconic that slots are often referred to as "fruit machines" in the UK.

Bars: The bar symbol, originating from the early designs of slot machines, is another staple. It often appears in various forms, like the single, double, or triple bar.

Sevens: Holding a special place in many cultures as a lucky number, the number 7 is a recurring symbol in slots. It might appear in different colors, and in many games, landing a combination of sevens offers high payouts.

Bells: This symbol can trace its origins back to the original Liberty Bell slot machine. The bell typically symbolizes a mid-tier payout and is a nod to the roots of slot gaming.

Stars: A common sight in both old-school and modern slots, stars can be both standard symbols and indicators of special features or higher payouts.

Playing Cards: Playing card symbols, such as A, K, Q, J, 10, and 9, are prevalent in many video slots. They generally represent the lower-value symbols in a game.

Jewels and Gems: Symbols of opulence, diamonds, and assorted gems often find their way into slot games. They resonate with themes of luxury, riches, and treasure hunts.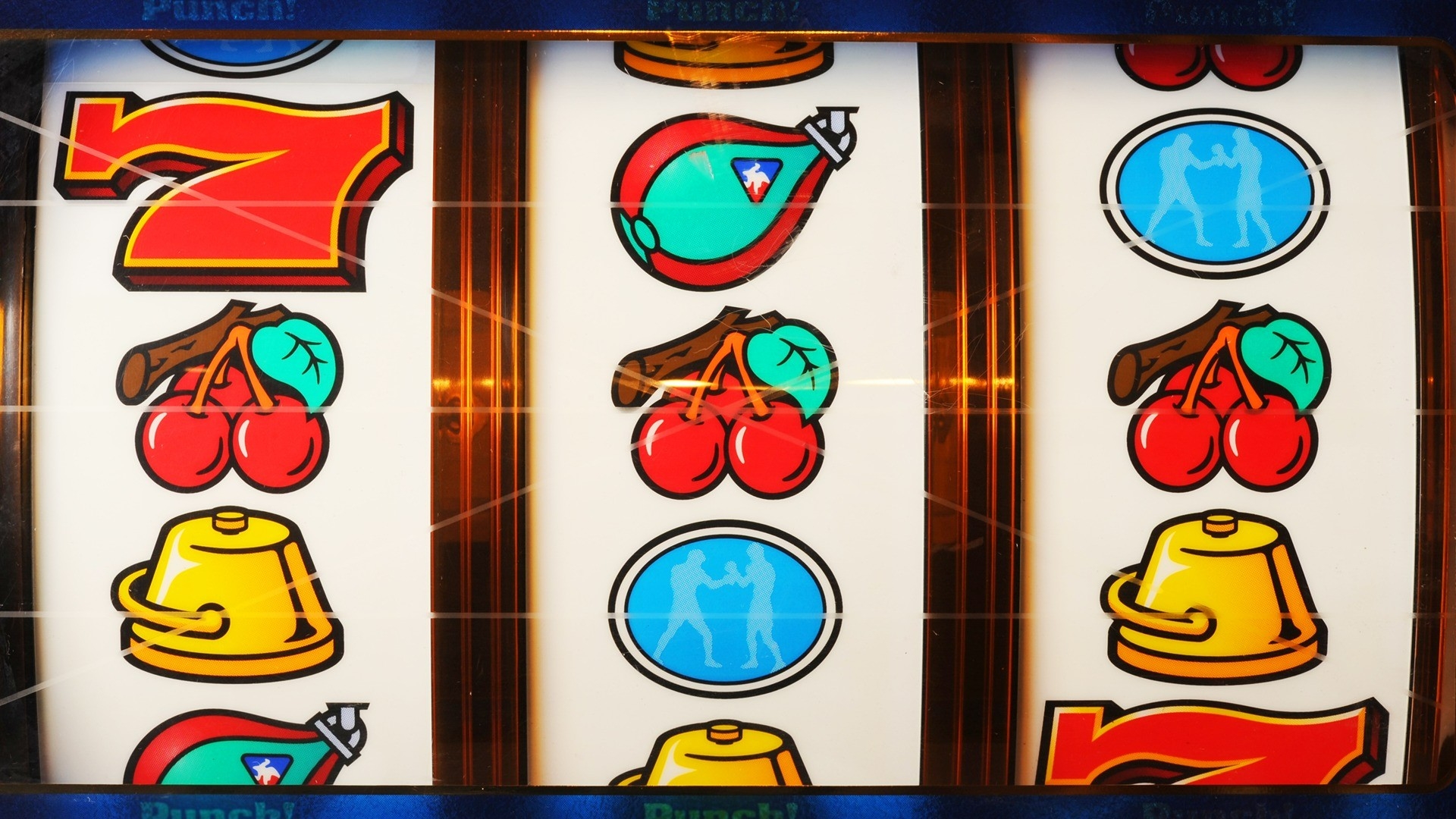 Classic slot machine symbols on 3 reels
SLOT MACHINE SYMBOL TYPES
Slot machines have evolved significantly over the years, and with them, the variety and functionality of the symbols they employ. While classic symbols like fruits, bars, and bells still make appearances, modern video slots offer a wider array of symbols, each with its unique feature. Here's a breakdown of some of the most common symbol types:
Standard Symbols: These are the basic symbols that you'll see in most slot games, and they often align with the game's theme. In a pirate-themed game, for instance, you might see treasure chests, swords, or pirate hats as standard symbols. These typically offer payouts when matched in combinations on active paylines.

Wild Symbols: Wilds are the chameleons of slot symbols. They can substitute for nearly any other symbol (except usually for scatter and bonus symbols) to help create winning combinations. Some slots also offer expanding, stacked, or sticky wilds, each with its unique functionality.

Scatter Symbols: Scatter symbols are unique because they don't need to land on an active payline to trigger a win. They can appear anywhere on the reels, and if you get enough of them, they might unlock special features or bonus rounds, such as free spins or multipliers. The name "scatter" comes from the fact that they can be "scattered" anywhere on the reels and still count.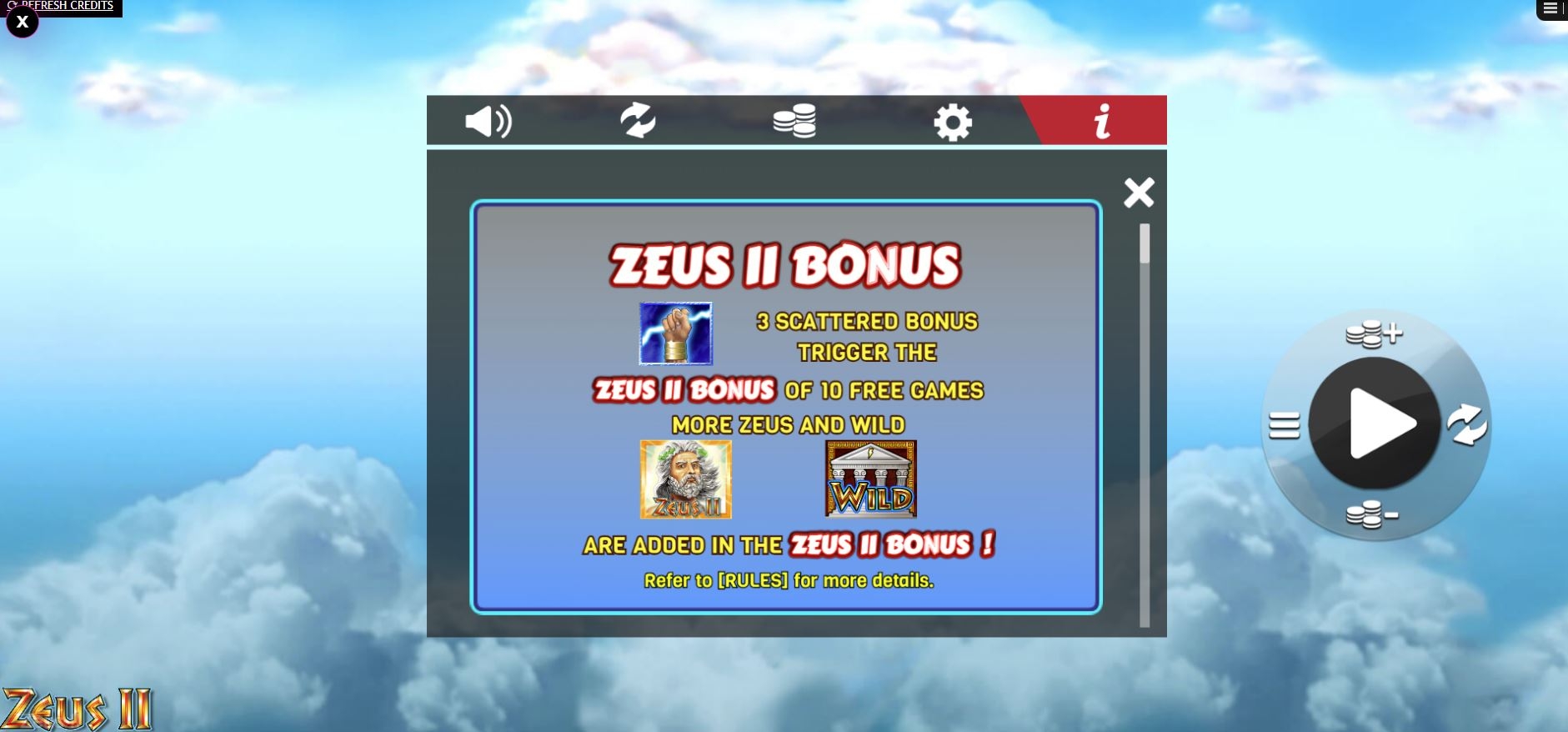 Zeus 2 scatter symbols
Bonus Symbols: These symbols often trigger special bonus rounds or features when they appear in specific combinations. The nature of the bonus round can vary greatly, from simple free spins to complex, interactive mini-games.

Multiplier Symbols: As the name suggests, these symbols multiply your winnings. For example, if you have a combination with a 3x multiplier, your winnings for that combination would be tripled.

Expanding Symbols: These symbols can expand to cover an entire reel, increasing the chances of forming winning combinations. They are common in modern video slots and often come with impressive animation

ons.

Sticky Symbols: Once these symbols land on the reels, they stick in place for a predetermined number of spins or until a special event occurs, increasing the chances of a win on subsequent spins.

Progressive Symbols: These symbols are typically found in progressive jackpot slots. When collected or matched in a certain combination, they can trigger a jackpot bonus round or contribute to an increasing jackpot pool.
Symbols on Today's Slot Games
Any trip to a casino will include quite a sensory experience when checking out the slot games on the gaming floors. Today's games have advanced well beyond traditional playing cards, fruits, and 7s on those reels. Those reels have also advanced as well to include even more options when playing.
Games are also not based on mechanical reels anymore with most machines even featuring only video options. No longer do the machine's mechanical inner works and the symbols landed on determine if a player wins or loses. Instead, the machine's random number generator creates a completely random result which is then represented by the reels on the machine.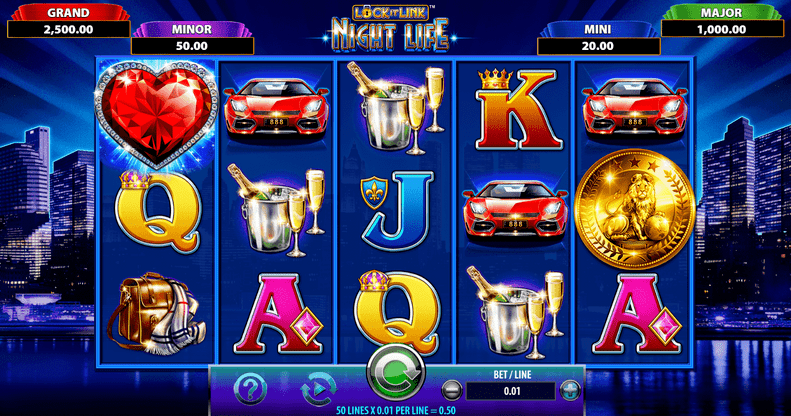 No doubt gamblers aren't thinking about this as they look to see those key symbols show up in front of them, but a modern slot is just a computer with the software determining wins and losses. But that doesn't mean the graphics, video, and slot symbols can't make playing a fun experience.
Quite the contrary, slot machines have advanced to almost becoming video games that involve a bit of gambling along the way. Manufacturers offer something for every taste and interest from movies and TV shows to rock bands, mythology, and fairy tales. Online and social slot games are equally as creative and a quick scan of the games offered at Jackpot Party and you'll find games focused on:
Luck of the Irish

Wild animals

Gold mining

Greek mythology

Cute and cuddly puppies and cats

Cowboys

Aliens from outer space

Dragons
There are numerous other games and slot themes to choose from as well. As one might expect, some of the more important and interesting characters, images, or animals associated with a game's theme or storyline are usually some of the most important symbols in a game. These tend to offer players bigger payouts and some even offer opportunities for bonus games, free spins, respins, and maybe even a huge progressive jackpot.
Knowing a game's symbols is fun and can add to the excitement and anticipation of seeing which ones appear on those pay lines, but a machine will guide players who can't keep up with it all. Today's games highlight those wins with coins/credits hitting your bank on the machine with no need to worry about coins at all.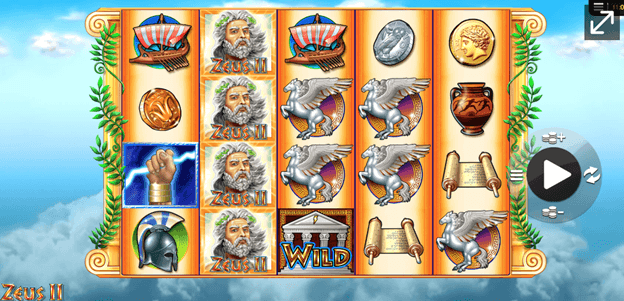 Zeus 2 spin button
Pop Culture Slots and Symbols
What's great about modern slot machines might just be the sheer number of gaming options available not only on a casino floor but also online, where you can also play for free or even real money depending on your location and jurisdiction.
A trend over the last decade or so has been to add even more links among slot games and pop culture. As noted earlier, slot developers also work to appeal to numerous slot players by making use of classic characters from movies and TV shows as well as rock bands, celebrities, and more.
As an example, Jackpot Party also includes James Bond Casino Royale, The Flintstones, and Cirque Du Soleil: Kooza. This is just the tip of the iceberg on what is available for players looking for something unique or maybe just for a bit of slot-playing nostalgia. Many symbols in this game of course revolve around Bond and the film itself.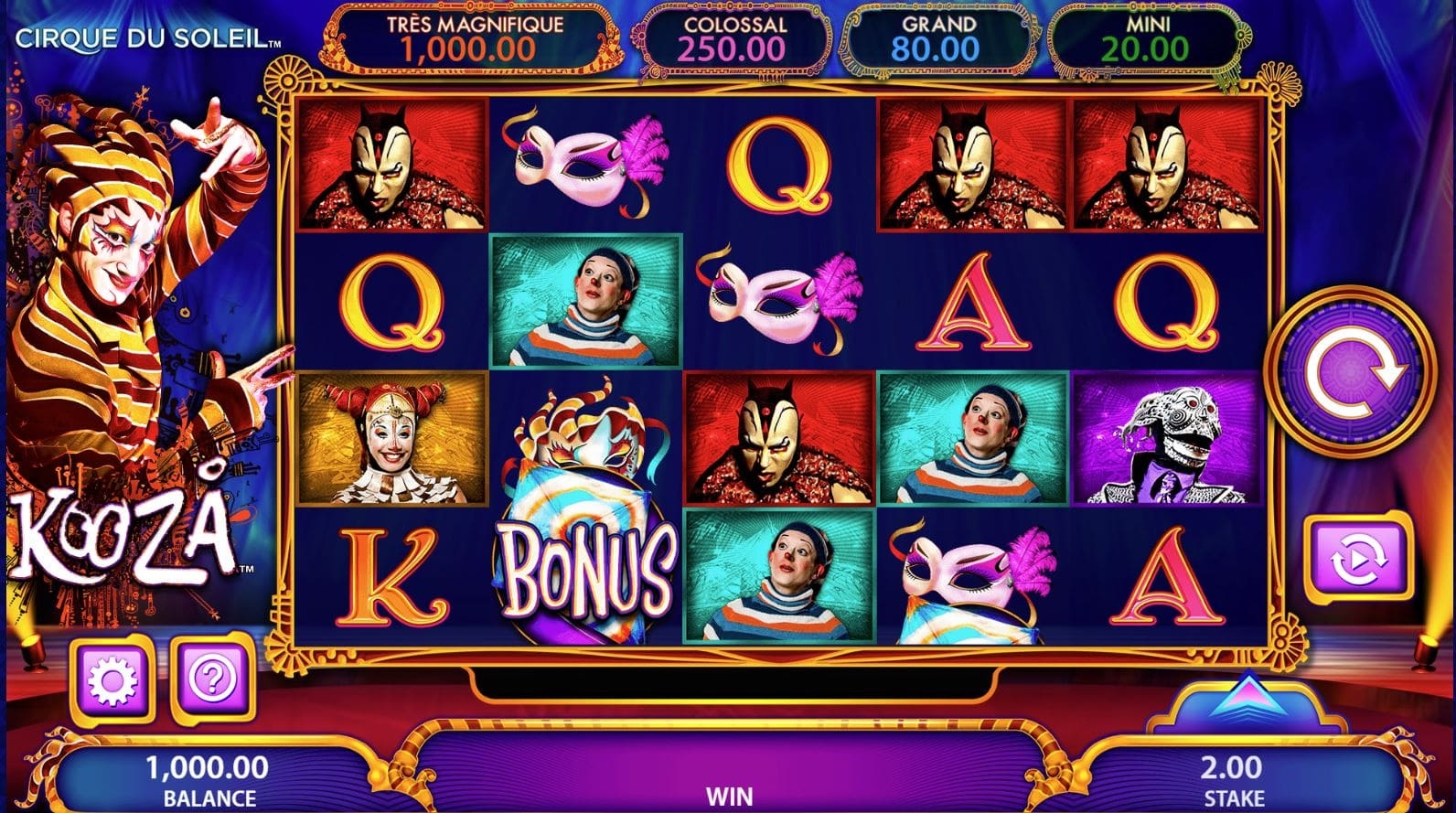 For example, fans of 007 will get a kick out of James Bond Casino Royale. In this game, players will be hoping the international superspy helps pave the way for some winnings while on Her Majesty's secret service. The game features five reels, 25 pay lines, and clips from the film as part of the fun.
Conclusion
Symbols are the images that appear on a slot game's reels. While the exact result of a modern slot game may depend on a random number generator, the symbols offer a visual interpretation of the slot's computer-generated result.
Game manufacturers offer plenty of creativity when it comes to themes and storylines and the symbols of the game will represent this. Some of the traditional symbols will pay more than others and offer a chance at some winning along the way when playing.
However, players are hoping for more key symbols to make an appearance. This can include items such as wilds and scatters. Wild symbols can replace other symbols and offer extra chances at winning combinations. Scatter symbols give you a shot at bonus games and free spins, also meaning more opportunities at winning.
Slot machine technology has come a long way from those early days in Charles Fey's machine shop. Players can now even play right on their mobile phones at sites like Jackpot Party. The games may have changed considerably, but plenty of fun remains.
Frequently Asked Questions
What are slot machine symbols?

Slot machine symbols are the images that appear on the game's reels. They can be traditional symbols such as fruits, bars, and sevens, or more exotic symbols that reflect the game's theme or storyline. Symbols are an important part of the game's visual presentation and can offer players opportunities to win.

What is the history of slot machine symbols?

The first slot machines were created in 1887 by Charles Fey, and they featured symbols such as fruits, playing cards, and bells. These symbols were used to show the result of each spin and add to the game's visual presentation. Some of these classic symbols, such as playing cards and suits, are still popular on many video slots today.

What are the special symbols on a slot machine?

Special symbols on a slot machine can be more valuable than other symbols and offer players more chances to win. Wild symbols can act as any other symbol on the reels and create more winning combinations. Scatter symbols trigger bonus games and free spins, which can lead to more opportunities to win additional credits.

What are pop culture slots and symbols?

Modern slot machines often feature pop culture themes and symbols to appeal to a broad range of casino players. This can include classic characters from movies and TV shows, rock bands, celebrities, and more. These symbols can offer players bigger payouts and add to the game's excitement and anticipation.

What is the significance of slot machine symbols?

Slot machine symbols are an important part of the game's visual presentation and can offer players opportunities to win. They can also add to the game's excitement and anticipation, and special symbols can trigger bonus games and free spins. While the exact result of a modern slot game may depend on a random number generator, symbols offer a visual interpretation of the game's computer-generated result.