Popular Slot Machine Themes
No matter your interest, it seems there is something for everyone who might dream of playing a slot machine. Early games featured slot symbols like playing card suits, sevens, fruits, bars, bells, and more. But with more themes now available in these games, players will find a plethora of symbols spinning around those reels.
Manufacturers now have run well past those classic symbols with today's games, making use of a game's theme to offer more game-specific symbols.
Here's a look at some of the more popular themes available for players:
Pirate slots – Aaarrrrrr! Who doesn't love a good pirate tale? There seems to be no shortage of interest in these historical bad guys and they're still featured regularly in movies, TV shows, casinos (such as Las Vegas' Treasure Island), sports teams, and much more. Players are looking for their own treasure chests in these games.

Halloween slots – Ghosts, goblins, witches, and so much more. These games pay homage to the popular holiday. That trick-or-treat expedition might just bring some big bucks.

Animal slots – It's no secret that humans love their furry and feathered friends. Slot manufacturers have taken notice and offer numerous games that will keep animal lovers coming back for more. Jackpot Party offers cute and cuddly options like Goldfish Feeding Time Treasure, Cheshire Cat, and OMG! Puppies.

Mythology slots – Head to ancient Rome or Greece with this theme. Mythology remains not only popular among historians but also in pop culture, slots included. Jackpot Party offers a plethora of these games focusing on gods, goddesses, and more with titles like Kronos, Zeus 1000, Neptune's Quest, Rome & Egypt, and numerous others.

Egypt slots – Ancient Egypt has fascinated people for generations. Those mesmerized by mummies, pyramids, and ancient mysteries will enjoy these types of games. On Jackpot Party, the game Rome & Egypt takes players on a journey through this ancient world complete with symbols like the Sphinx, pyramids, and more.

Sexy slots – It's no secret that casinos and gaming companies like to mix in a little sex appeal and these games often include a little fun titillation. For a bit of sexy slot play, check out Brazilian Beauty, Amazon Queen – or Kronos Unleashed for a little beefcake.

Fruit slots – Early slots featured fruits and some modern games feature a little vintage fun with these symbols too. Line some of these symbols up just right on the reels for a sweet payout.

Sports slots – Those who enjoy some sports can also find games that appeal to an athlete's thirst for competition. Games featuring this theme range from soccer and hockey to other competitions like fishing, sumo wrestling, horse racing, and more.

Chinese and Asian slots – These are some of the most popular themed slots in the casino. Numerous games offer players a chance to take a trip to ancient China with a chance at some of their own good fortune. Jackpot Party offers players plenty of fun options including Forbidden Dragons, Fu Dao Le, Jin Ji Bao Xi - Endless Treasure, Dragon Spin, and others.

Christmas slots – These games focus on one of the most popular holidays on the calendar, many complete with Santa Claus, reindeer, candy canes, and more. A nice Christmas present of cash is always nice too.

Irish and Ireland slots – Does a leprechaun really guard a pot of gold at the end of the rainbow? Slot players may just find out. Ireland and Irish culture remain popular themes as players try and find their own luck. The luck of the Irish remains alive and well and Jackpot Party players should check out games like Rainbow Riches and Leprechaun's Fortune.

Spooky and creepy slots – Fans of horror, mystery, and scary movies may want to check out slots with this theme. These games come with creepy music and some spooky symbols. At Jackpot Party, Clue offers some of those feelings of fright.

Wildlife slots – Those who enjoy the outdoors have numerous slots to choose from and that includes games for those who like adventures involving an opportunity to see some wildlife in their natural habitat. Slot players at Jackpot Party can take in some wildlife as well with games like Raging Rhino Rampage, Gorilla Chief II, Jungle Wild, and Pride & Prey. Take a trip into the jungle or the African savannah, and you may just come back with some nice winnings.

Casino-style, Vegas classic, and vintage slots – Looking for a game that makes you feel like you're gambling at a casino on the Las Vegas Strip? These types of games fit the bill for that old-school casino ambiance. Check out Aftershock at Jackpot Party for the chance at some earth-shaking wins along with some big spins at Triple Cash Wheel Hot Shot.

Movie and television slots – Grab some popcorn and enjoy this fun theme with games available from your favorite action flicks, comedies, and more. Some of that includes Ghostbusters, The Godfather, Jurassic Park, and more. Live out your James Bond dreams with Casino Royale on Jackpot Party or go back in time with The Flintstones.

Adventure slots – Hit the road for some real adventure – whether in a jungle or in a mysterious world. At Jackpot Party, head off on your own journey into the unknown with Amazon Queen, Gem Hunter, Jungle Wild, or Sword of Destiny.

Dragon slots – These creatures represent luck in Chinese culture and slot fans will find plenty of options with this theme. Numerous slot manufacturers feature these mythical beasts as players spin their way to some fiery winnings. Check out Jewel of the Dragon, Forbidden Dragons, Little Dragons, and Dragon Spin.

Leprechaun slots – These games focus on the legend of the leprechaun in Irish lore. These fairies offer a chance at some riches and are featured in numerous casinos and slots, including in Rainbow Riches and Leprechaun's Fortune at Jackpot Party.

Sun and moon slots – Celestial bodies can also be featured in several slots, bringing players up close and personal with the heavenly bodies. Jackpot Party offers you a look at some nighttime nature with Lunaris.

Viking slots – Head to the high seas with these Scandinavian warriors. The burly adventurers have fascinated many, inspiring TV shows, movies, and even slot machines.

Rome and Egypt slots – These two ancient civilizations have been recognized the world over for their amazing architecture, design, and interesting historical figures. At Jackpot Party, get your own time machine with Rome & Egypt, Zeus III, Kronos Unleashed,

Wild West slots – Casinos and gambling are often synonymous with the Old West and many casinos still make use of this theme. From cowboys and shootouts to gold mining and more, these games certainly take players out of their regular routines. Check out games like Wild Shootout, Eureka Reel Blast, and Gem Hunter that fall into this category at Jackpot Party.

Love and romance slots – Looking for a little romance mixed into your slot play? These types of games may have you thinking of Valentine's Day or that perfect match with symbols like hearts, gifts, glasses of champagne, and more. Jackpot Party games like Hearts of Venice and Lock It Link Night Life may have you thinking of that special someone.

Witch slots – Whether wicked or kind, witches are occasionally features in slot machines. Mix up that perfect potion for a winning spin with these games featuring popular symbols like witches' hats, brooms, black cats, cauldrons, and more.

History slots – History buffs will find numerous slot games offering a look back at critical periods throughout the world. From the world's great empires to interesting characters to amazing moments, there seems to be something for everyone with this theme. That goes for Jackpot Party as well with titles like Napoleon and Josephine, Black Night, Montezuma, and numerous others.

Beer and cocktail slots – It seems spinning some reels on a slot and a few sips from a nice beverage go hand in hand when hitting a casino. Slot manufacturers not only know this but have made this a theme for some of their games as well. Grab a mug at Jackpot Party and soak up some suds with Heidi's Bier Haus, Heidi & Hannah's Bier Haus, and more. Cheers

Wealth and riches slots – This may seem like an obvious theme for a slot machine as players try and spin their way to a nice jackpot. Slot developers have worked to offer players a look at living the highlife and these games often feature symbols like diamonds and gems, cash, expensive cars, cocktails, luxury properties, and much more. Hopefully, you can cash in at Jackpot Party with games like Glitz, Gems Gems Gems, and Monopoly Money in Hand.

Magic, fantasy, and sorcery slots – These games take players to magic worlds of elves, fairies, wizards, warriors, and other interesting creatures and worlds. Cast a spell or go on an adventure on your way to a nice score with Jackpot Party favorites like Enchanted Kingdom, Lunaris, Cirque Du Soleil Kooza, and Sword of Destiny.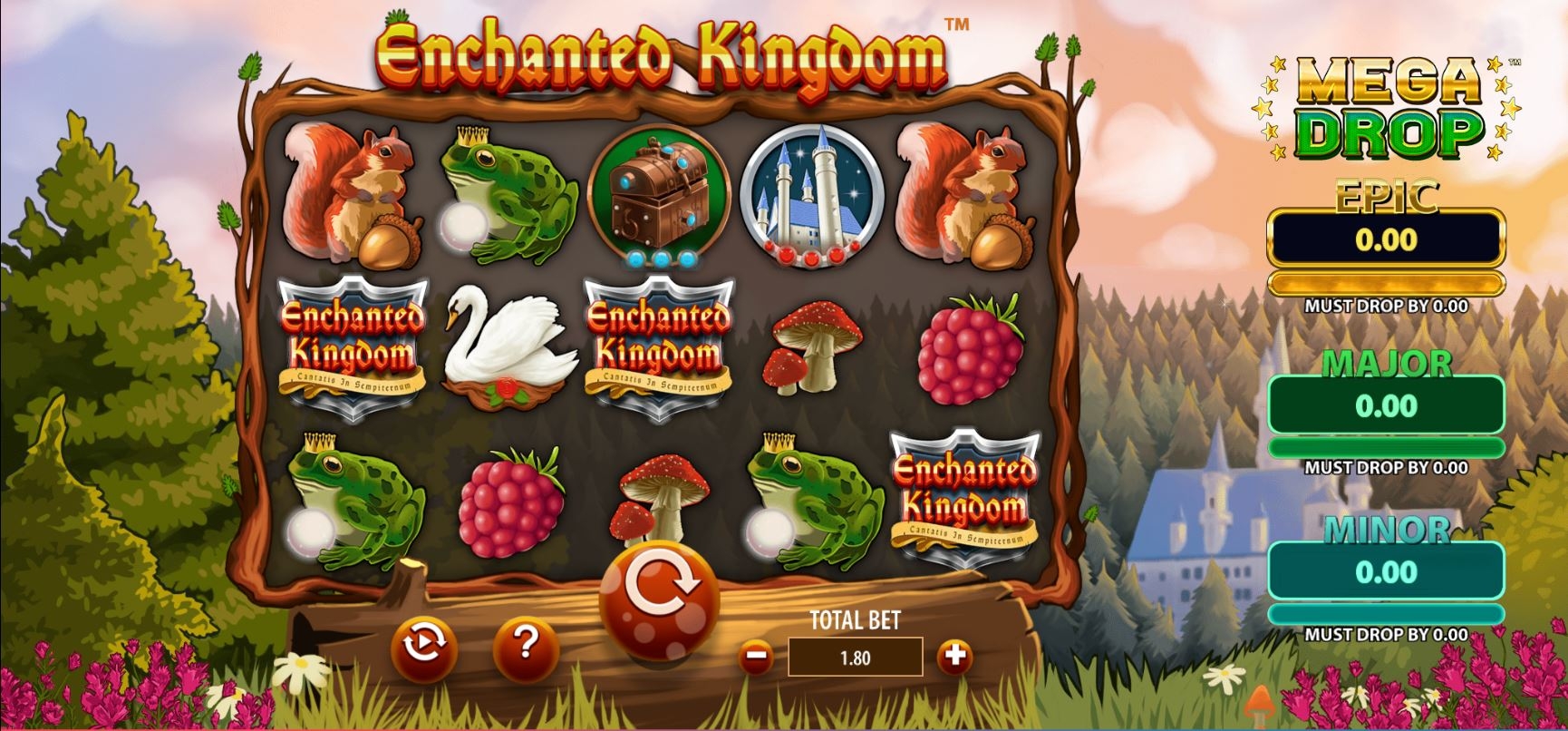 Enchanted Kingdom slot machine
These are just some of the slot themes that game developers are offering players. Even more gaming themes and options are available and some manufacturers are utilizing skill-based games that might have more in common with games found on an Xbox or Sony Playstation than a typical slot on the casino floor. It seems there is a slot machine now to suit any interest or taste.
Most Popular Slot Machine Themes in Vegas
Ah, Vegas! The neon-lit capital of dreams, where slot machines aren't just games – they're an experience. Amid the bustling casino floors, certain slot machine themes stand tall, drawing players with their captivating narratives and dazzling graphics. Let's venture into the heart of Sin City to uncover the themes that reign supreme:
Egyptian Mysteries: Walk like an Egyptian straight to these slots. Pharaohs, pyramids, and golden treasures come alive, promising riches as vast as the Nile.

Lucky Asian Fortunes: From majestic dragons to delicate cherry blossoms, these slots imbue the serenity and luck of the East, with red lanterns and golden coins spinning you towards prosperity.

Hollywood Blockbusters: The glamour of the red carpet in a slot! Themes inspired by top movies and celebrities transport players straight to Tinseltown.

Classic Vegas: A nod to old-school charm, these machines feature cherries, sevens, and bars, offering a nostalgic trip down memory lane of Sin City's early days.

Adventurous Expeditions: Whether hunting treasures in dense jungles or exploring deep-sea mysteries, these slots offer thrilling quests with tantalizing rewards.

Magic & Fantasy: Unicorns, wizards, and enchanted forests beckon players into a realm of whimsy and wonder, casting spells of luck and fortune.

Sports Fever: From the roaring crowd of a football stadium to the adrenaline-pumping Formula 1 race, sports-themed slots capture the thrill of the game, one spin at a time.

Wild West Frontier: Dusty towns, dueling cowboys, and the promise of gold – these slots transport players to an era of saloons and showdowns.
Strolling through Vegas's vast casino landscape, it's evident that slot machine themes have evolved to capture imaginations, promising not just wins but a journey into another world. So, next time you're in the City of Lights, which theme will call out to you?
How Slot Machine Themes are Chosen
Modern video slots have given slot developers much more to work with when it comes to adding unique and interesting themes. Today's technology allows for better graphics and sounds, which means manufacturers can also add more narrative elements that can appeal to players of all different interests.
The number of slots sought out by casinos around the world also allows for plenty of research and development to find what games might appeal to certain segments of the market. As seen above, manufacturers utilize numerous themes to meet player interests and demands. But how do slot manufacturers come up with these games and themes?
Companies conduct significant market research to determine what games might work best in the marketplace, according to Rise Up Labs. Much more goes into creating a game than just considering a certain theme. During this process, companies consider concepts like these:
Game idea – Have other companies created a similar game or used the idea before?

Trends – Is the game idea following recent trends in the industry or the general culture?

Languages – Does the idea fit multiple regions or feature diverse language requirements?

2D, 3D, or Virtual Reality – Which medium fits best with the target audience?

Cost – Does the game fit within a development team's budget?
Some of this is easier said than done. Numerous other factors must be taken into account including market trends and player preferences when determining which themes seem to be working with players. Gauging the success of other games can be a guide in this.
A company with an idea for a game may also not be scared away if another manufacturer already used a similar theme. Piggybacking on that success may give players a similar option and find success as well. Some developers also reach out to consumers directly to see what types of games and themes interest them the most.

"There are myriad ways to conduct market research for your slot game," Rise Up Labs notes. "One way is through surveys. So, if you or your business already have customers, you can conduct surveys among them. For example, you can ask questions like if they would like to play your proposed slot game. What features do they want? As a result, you can gauge some of the requirements."

Pop culture is one recent trend that seems to be working across the spectrum of the slot machine world. As video and graphics have improved, developers have been able to incorporate video clips and music from shows and media that resonate with players.
Using that nostalgia angle has been successful for many developers and companies have created slots using a wide range of pop culture icons. That has included musical acts like Ozzy Osbourne and Guns N' Roses, television shows like the Addams Family and Baywatch, movies like King Kong and Jumanji, and numerous others.
Players love the nostalgia of these games and connect well with players who may not only enjoy some of their favorite movies but perhaps also slot machine versions as well. Some of the pop culture areas available in the slot machine world include:
Movies

Television shows

Traditional video games (such as Tetris Super Jackpots, available at Jackpot Party)

Stage shows (such as Cirque Du Soleil Kooza, available at Jackpot Party)

Cartoons

Books

Comics
Not all themes have worked out well, however. While pop culture connects in a positive way with many players, others don't always create that same sense of positivity. Using religion in gaming isn't always a good idea and a game called Lakshmi's Gold experienced this in 2012.
The game featured Hindu religious symbols as well as gods and goddesses, including the important goddess Lakshmi. Many Hindus protested using the religion in a slot machine game with Rajan Zed, president of the Universal Society of Hinduism, calling the game "highly inappropriate." The developer ultimately discontinued the game.
Certain aspects of the pop culture theme don't always work as well. The TMZ gossip show and website may attract plenty of viewers and readers looking for scoops on famous celebrities but didn't appeal to slot players. The game never really gained much traction, however. Players don't like mixing their gossip with their slot play.
Designing Slot Machine Themes
Once a theme for a new slot machine has been determined, manufacturers must then go about actually designing the game. That includes technical issues, programming software, creating the graphics, adding a narrative arc if needed, and making the game visually appealing. This can apply to both live and online slots as well.

"A preliminary version in the online slots development process is crucial," Game Industry News notes. "The process involves creating a skeletal outline to test software compatibility accuracy and lessen errors to insignificant levels. The team's focus in this stage is limited to crucial aspects only. What follows is the primary version of the entire project.
"User experience in game development strives to offer game twists and moves that a player can easily relate with, given his past interactions. Modern casino developments like gamification, retro vibes, animations, celebrity-inspired slots, and mobile optimization take center stage here. This stage is tricky as the whole team must use research-backed data. The data helps identify the ideal characters and how they transition across scenes."

In recent years, video and animation have been used more and more in slot machines. This offer is not just a way to connect with players but also a way to add interesting, unique features that certainly weren't available when mechanical reel slots ruled the day. The games are no longer confined to static symbols like fruits, bars, 7s, and other vintage symbols.
"The presence of dynamic characters also allows for more complex storylines, which would not be possible with static symbols alone," AnimationXpress.com reports. "Developers can use these figures to craft unique stories and objectives within the game, creating a narrative that keeps players engaged throughout their gaming experience. This narrative is further heightened by the rich visuals, sound effects, and other immersive elements that dynamic characters bring."
The Wheel of Fortune slot phenomenon shows how the use of a popular theme, in this case, a well-loved television show and a major part of pop culture, can be combined for a massive hit game. The slot takes advantage of the popularity of the show and also offers a real quality design with numerous other versions ramping up the fun. Wheel of Fortune was also one of the first licensed games in the industry.
The Wheel of Fortune line of clots celebrated its 25th anniversary in 2021 and that came with some pretty impressive numbers. After a quarter of a century of spinning reels and spinning wheels, the games have reached quite a few major accomplishments:
1,100 jackpots of more than $1 million.

Awarded more than $3.3 billion in jackpot prizes.

IGT has developed more than 250 versions of the game.

Paved the way for hundreds of additional licensed slot games to appear in land-based and digital casinos worldwide.
Top Slot Machine Themes of All Time
There are numerous slot machine themes for players to choose from and developers continue to offer newer games with even more innovations. There is something for every type of player, but a few themes seem to stand out.
Television Shows – As noted, Wheel of Fortune is the most successful of these and remains highly popular still after almost three decades. Game show slots make use of pop culture to connect with players who may be fans of a particular show.

Movies – Like television shows, these theme seems like a natural way to connect with players. These games usually feature videos from the actual films to enhance the experience.

Animals – Whether in the wild or as pets, players tend to favor these types of games and they remain very popular. Many of these games, such as Buffalo and Wolf Run, offer a look at nature that transports players outside the casino and into the wild.

Casino-style, Vegas classic, and vintage slots – These offer a bit of throwback to classic Vegas and casino gaming. Players will see traditional symbols like fruits, bars, 7s, and more but usually with a modern twist. A few examples of these types of games include Blazing 7s and Aftershock.

Chinese and Asian slots – This theme remains hot all around the world as players seem intoxicated by games featuring imagery from the Far East. These games often feature symbols related to luck, such as dragons, cold coins, and even some cute babies on occasion. Popular titles with this theme include Fu Dao Le, Jin Ji Bao Xi - Endless Treasure, Dragon Spin, and numerous others.
There is much more that goes into creating a successful slot machine than just selecting a popular theme, however. Manufacturers still must create games that appeal to a broad base of players. This includes creating compelling narratives, fun gameplay, nice bonus features, and so much more.
Slot Machine Themes of the Future
Considering the numerous slot machine themes available, players may be asking "what's next" when it comes to the world of slot machines. With continuing advancement in technology, there seems no end in sight for slot manufacturers' creativity.
Obviously predicting the future, but gazing at the crystal ball with some realistic expectations may allow for at least some reasonable predictions on where the game may be headed in the future. Here's a look at what might be in store in the future when players visit their favorite casino or when heading to an online gaming platform.
Virtual reality – Tech firms have begun embracing virtual reality in a big way and it seems likely that this new technology will also head to a slot machine cabinet or online gaming platform at some point. This may offer players a chance to actually be part of the game, play in a unique setting away from the casino, or some other angle that would fit well for slot play. Some gaming companies, such as PokerStars, have already moved into this space.

Holograms – This offers another unique technology that could be embraced by the slot industry. Hologram music concerts have become normal in recent years, allowing long-passed artists to be "revived" to perform again. Does it seem out of the realm of the possibility that the technology could be used to enhance bonus games or other slot features? Probably not.

Video games – Traditional video games remain immensely popular and as younger generations get older, it seems likely more and more manufacturers will embrace traditional video games with a slots twist. Some companies are already doing this with skill-based games that seem more similar to traditional arcade games. Others are licensing popular and classic video games like Tetris and Pac-Man.

Cabinet innovations – Emerging technologies possibly could mean complete changes and additions to some of the most popular slot machine games. This could include advanced three-dimensional technology and other enhancements as well as completely different approaches to how to make use of the technology.

Mobile and online slots – As manufacturers continue to up their game, look for more innovation in online slots including platforms like Jackpot Party. Companies continue to enhance their offerings and ramp up even more dynamic slot themes.
Pick and enjoy our fantastic slots from the options below:


Click here to explore all of our free slots.
Conclusion
Unique and popular themes allow slot companies and casinos to better connect with players. While simply watching reels spinning and hoping for a few symbols to show up in the right way on the paylines may have been a fun option in the past, modern players expect much more. Developers are constantly working to meet that demand.
Modern video and sound technology have made slots a real entertainment option similar to movies, television, and video games. This medium is also now encompassing those elements as well by way of unique and interesting themes including licensing popular titles and characters within the world of pop culture. Slot themes can connect with players in a few ways including:
Offering a sense of nostalgia that connects with fond memories.

Showcasing a pop culture interest of the player, such as a favorite TV show, movie, or musician.

Offering a popular type of narrative or topic, such as history or the Old West.

Appealing to a sense of luck or good fortune, as seen in popular Asian or Irish-themed slots.

Giving players unique features and bonus games that only enhance or add to the theme's fun experience.

Adding interesting technology that amplifies the theme and gameplay.
Players don't even have to head to a casino to experience some of these slot theme offerings – or wager any cash at all. Platforms like Jackpot Party offer players the chance to experience some of these games firsthand without dropping in any real money.
Slot machines remain a massive part of the gaming industry and the sector's popularity still looks to be on an upward trajectory. Slot developers continue offering plenty of unique options for players and adding more technology to the experience.
The games have come a long way from those early mechanical reel days and that has only been good for players. That has certainly benefited players looking to spin their way to some fun and potential winnings. Grab a seat and check out some themes that fit your personality and enjoy!