Every slot machine player dreams of hitting it big – lining up those reels exactly right to see those bells and whistles go off signifying a massive jackpot win. Winning a few thousand dollars can be a great feeling, but for some those figures can be even higher.
For an even luckier group, those winnings even go way beyond a six-figure jackpot. These players have defied the odds and scored some of the biggest amounts ever seen by slot machine winners.
Here's a look at some of the biggest slot machine winners in history:
1 – Excellence at Excalibur: $39.7M
Location: Excalibur, Las Vegas

Game: Megabucks

Winning amount: $39.7 million
This massive score came in 2002 making a nice Vegas vacation so much better. This lucky slot player hit it big after putting just $100 into the machine. That was quite a score and certainly made for a nice Vegas vacation.
Bonus Bucks:The lucky player agreed to receive his winnings in 25 annual installments. That means another few years of getting some big checks in the mail.
2 – Keeping Cool in the Desert: $35M
Location: Desert Inn, Las Vegas

Game: Megabucks

Winning amount: $35 million
Cynthia Jay Brennan was a 37-year-old cocktail waitress who joined her boyfriend for some slot play to celebrate his mother's birthday. After only an hour of play, she became extremely hot at the Desert slots. She hit it big for a cool $35 million, certainly much more than she'd ever earn in tips serving drinks.
Sadly, not long after her win, she and her sister were stopped at a red light when they were struck by a drunk driver. Her sister was killed instantly and Brennan was paralyzed from the chest down. Since the accident, she's worked to help others by donating more than 1,000 wheelchairs to others in need.
Bonus Bucks:Despite her massive good fortune, Brennan showed some real commitment to her job and still showed up for work the next day after her jackpot win.
3 – Retirement Riches: $26.7M
Location: Palace Station Casino, Las Vegas

Game: Megabucks

Winning amount: $27.6 million
This slot player became real royalty at the Palace Station, a local casino in the Las Vegas area. The 67-year-old woman had recently retired and was a longtime Vegas resident. She hit it big while playing a dollar machine with her husband. Despite the big score, the new millionaire wasn't planning on making any major purchases.
"I don't know what I'm going to do," she told the Las Vegas Sun about her big win. "I have no big wish list -- maybe some travel that we had not already planned. I have not notified the jewelers or the car people. It will brighten my life. But my life was good before. I was just in the right place at the right time."
Bonus Bucks:The former flight attendant planned to only wager $100 on the machine, but decided to drop an additional $100. The big win came just $40 into that second hundred.
4 – A Mad Win: $23.6M
Location: Online

Game: Absolutely Mad Mega Moolah

Winning amount: $23.6 million
Online slots have become one of the fastest-growing sectors in gaming. This score from April 2021 now checks in as the largest online slot jackpot in history. A Belgian player scored $23.6 million after wagering only €15 wager.
"The feeling at that moment is just indescribable," the new millionaire said after the win. "At first you can hardly believe it and I think it will take a long time to sink in completely. It was on my last spin that it happened."
Bonus Bucks:The Absolutely Mad version of Mega Moolah is an adaptation of Alice in Wonderland. No doubt this winner was grinning like the Cheshire Cat.
5 – Even More Mega Moolah: $23.5M
Location: Online

Game: Mega Moolah

Winning amount: $23.5 million
This lucky player also cashed in on a Mega Moolah game in September 2018. The player's country of origin remains unknown, but the manufacturer confirmed a gigantic win on its popular online slot game. The game has awarded numerous jackpots and the name certainly fits.
Bonus Bucks: The big win earned recognition by Guinness World Records at the time.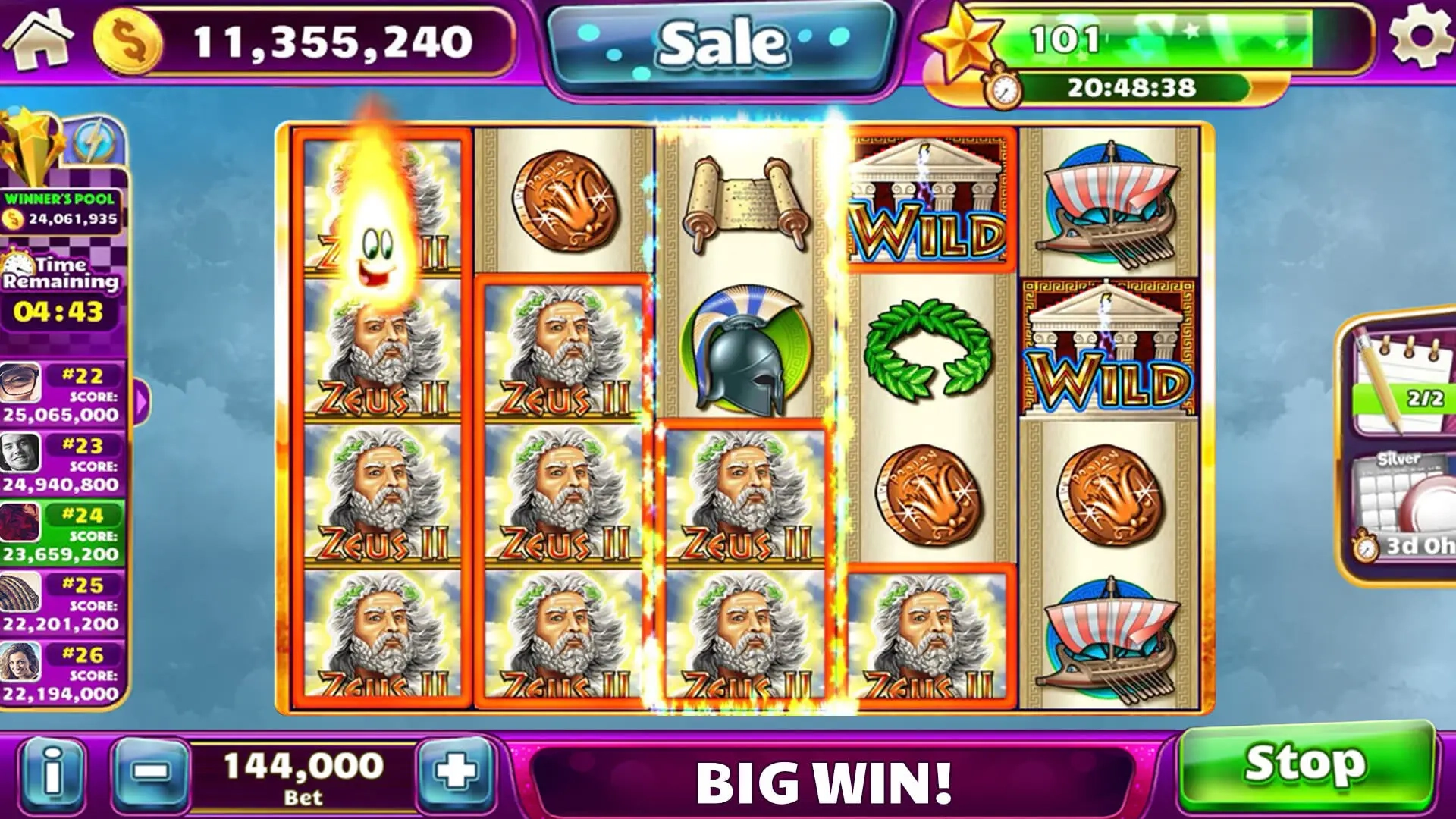 Invaders From Planet Moolah slot machine
6 – Big Finnish: $24M
Location: Online, Scandinavia

Game: Mega Fortune

Winning amount: $24 million
The luck of the Finnish? That may not be the expression but was certainly the reality on Jan. 20, 2013, when an online player from Finland bet 25 cents to win this gigantic eight-figure payday. This progressive slot game registered a 100,000,000X return on investment.
Bonus Bucks:Perhaps this player may have gotten a bit tired of the cold weather. That $24 million score could easily afford an extra $7 million Italian-style villa on the Mediterranean island of Mallorca complete with pool, jacuzzi, views of the golf course, and located just minutes from the beach. It's a good bit spending even half that would probably bring a pretty nice getaway home as well.
7 – Banking Big at Bally's: $22.6M
Location: Bally's, Las Vegas

Game: Megabucks

Winning amount: $22.6 million
Memorial Day turned out to be quite a holiday for Johanna Heundl in May 2002. Things hadn't gone too well when the 74-year-old retired printer from Covina, California, decided to take in some slot play at Bally's Casino on the Vegas Strip. She was already down $177, but things turned around quickly.
Heundl originally thought she'd hit a smaller, yet still nice, jackpot of $2 million. She was quickly corrected and couldn't believe her good fortune.
"Everybody said, no – it's $22 million," she recalled after learning of the much larger sum. "I still can't believe it."
Bonus Bucks:At the time of her win, Heundl had been on her way to breakfast but stopped to play a bit. She usually visited Las Vegas five or six times a year with some friends. Her husband and son were both deceased, however. When no one could make the trip with her in 2002, she decided to go it alone after Bally's sent her two free hotel rooms for her birthday. That turned out to be quite a celebration.
8 – Doubling Down on Jackpots: $21.1M
Location: Cannery Casino, North Las Vegas

Game: Megabucks

Winning amount: $21.1 million
Why win just one huge jackpot when you can win two? That was the case of 92-year-old World War II veteran Elmer Sherwin in 2005. The Las Vegas area local scored this massive jackpot for more than $21 million. But this wasn't his first big win on a Megabucks machine. In 1989, Sherwin landed a $4.6 million jackpot at the Mirage in Las Vegas.
The lucky man described it as his life's dream to win a jackpot for a second time. The odds of winning the game's grand prize is less than one in 10 million.
Bonus Bucks:"I'm glad I finally hit," Sherwin said after the second jackpot. "I've been trying to do it again." Most slot players would settle for just one of those massive wins.
Here are a few of Jackpot Party's most famous Vegas slots:


9 – Hail Caesar: $21M
Location: Caesars Palace, Las Vegas

Game: Megabucks

Winning amount: $21 million
Another Las Vegas gambler hit it big at one of the city's premier resorts in June 1999. The 49-year-old man from Illinois man may have been planning his own trip to Rome after crushing this Herculean jackpot. A self-employed business consultant, the lucky winner dropped 10 bucks in the machine and saw those Megabucks symbols line up just right on his first spin. That's some luck indeed.
"This is just the greatest feeling in the world," Caesars Palace Vice President of Slots Mike Tomasello said at the time. "A player comes in, puts $10 in the machine's bill acceptor and 'Bingo!' with the first pull he wins $21 million. He's set for life."
Bonus Bucks:After winning such a big jackpot, staff moved in quickly to rope off the area as crowds gathered. Casinos try to give these big winners some space – many times other slot players hope to touch the big winner for luck.
10 – Late Night Knockout: $17.3M
Location: Online, Norway

Game: Arabian Nights

Winning amount: $17.3 million
Just 20 years old and probably set for life. That was the case in 2011 when a student in Norway decided to give an online slot a few spins after watching a movie. That decision not to go straight to bed paid off in a big way. No doubt he became quite a big man on campus.
"It was just impossible to sleep, and I am shaking and sweating," the Norwegian man said after his life-changing turn of luck. "I haven't thought about what to do with the winnings. I need to try and calm down before even thinking of what I do with the money!"
Many slot players can surely relate to those sentiments.
Bonus Bucks:This lucky winner was already making some good decisions about his future. Shortly after his win, he's reported to already have been working with a financial consultant to make his winnings last for the long run.
11 – Soldiering on for the win: $17.2M
Location: Online, United Kingdom

Game: Mega Moolah

Winning amount: $17.2 million
Mega Moolah paid off in a big way in October 2015 for 26-year-old Jonathon Heywood from Cheshire, UK. The British soldier was playing 25 pence per spin when he hit the life-changing jackpot.
"I couldn't believe that I'd won all this money at the time – and it still hasn't sunk in," Heywood said after his win.
The win was particularly well-timed as Heywood's father was awaiting a heart and lung transplant.
"The first thing I will spend it on is the best possible medical treatment for my dad," he said. "That's more important than anything. Family comes first and I'd give all this money back for him to be healthy again."
Heywood also planned a Mediterranean cruise for his family after the win and upgrading his car to a yellow Bentley Continental GT.
Bonus Bucks:Amazingly, Heywood has just deposited £30 at an online casino for the first time when he began playing Mega Moolah. The jackpot turned up just seven minutes after he started playing.
12 – 'M' for Mega Jackpot: $17.3M
Location: M Resort, Henderson (Las Vegas area)

Game: MegaBucks

Winning amount: $17.3 million
A lucky visitor to this casino in December 2012 didn't even realize he'd won a jackpot, but quickly became aware when a fellow gambler pointed out his big win. The eight-figure sum certainly made for a nice holiday season and topped another big Vegas MegaBucks jackpot earlier in the year at the Aria for $12.7 million.
Bonus Bucks:Casino comps often mean a few free extras for a gambler. In this case, taking advantage of those may have led to a multi-million prize. The lucky winner took advantage of a free play and food voucher before hitting it big at M Resort. The meal that night may have been quite a party.
13 – Birthday Surprise: $12.8M
Location: Aria, Las Vegas

Game: MegaBucks

Winning amount: $12.8 million
A woman visiting this stellar casino on the Las Vegas Strip for her niece's birthday gave herself quite a gift as well to the tune of almost $13 million. Her path to the jackpot seemed to come on a whim. Maybe she had a premonition?
"I was on my way to my room when I saw this machine and decided to play," she said after the win.
Initially, the player thought the game had malfunctioned. However, her niece was quick to provide some excellent news – she was a new millionaire. No doubt the birthday girl received quite a birthday present that year.
Bonus Bucks:Many jackpot dreamers imagine buying a fancy car, dream vacation, or a palatial new home on the beach. This lucky winner was a bit more practical however. She simply hoped to use a chuck of her winnings to pay off her current mortgage.
14 – Going Downtown: $11.8M
Location: Fremont, Las Vegas

Game: Megabucks

Winning amount: $11.8 million
Downtown Las Vegas is a trip back in time, a Sin City or yesteryear with plenty of interesting properties and people. A stroll into the Fremont Casino paid off big for Rodolfo T. in August 2017. The California man was on vacation and a $3 bet turned into a life-changing turn of events.
The lucky gambler was playing the IGT Megabucks Double 3X4X5X slot and made the maximum bet on the machine. That obviously proved to be the right choice at the right time.

Bonus Bucks:The Fremont is a big part of Las Vegas's history and when it opened in 1956, the property was the tallest building in the state of Nevada.
15 – Big Check to Cash: $11.6M
Location: Online, country unknown

Game: Mega Moolah

Winning amount: $11.6 million
In 2016, a woman named D.P. passed some time playing some slots on her cell phone while her husband was cooking dinner. Just as he announced that it was time to eat, D.P. has a big announcement of her own. She'd hit a massive jackpot after playing for just a few minutes.
"I started screaming, crying, and running all around the house!" she said. "It's incredible! Not possible! Could I be a multi-millionaire?"
The couple called the online casino to confirm that what she was seeing was indeed real. Afterward. She and her husband retired and planned a big vacation for the family. Bon voyage, indeed.
Bonus Bucks:D.P. told media outlets that she'd always dreamed of making $1 million somehow. She'd been reading a self-help book that set if someone puts their mind to something that the universe will eventually make it happen. After reading the book, she wrote a check for a millions bucks to herself and tacked it to her wall as inspiration. The rest is history.