Many gamblers can't wait to land in Las Vegas and hit the slots. On the other hand, some players who may have taken too many losses may be looking forward to heading out of town. Whichever scenario may apply, Sin City's Harry Reid International Airport is one of the few airports in the world where players can head to the slots.
Those seeking a quick spin or two before hedging off to their casino hotels are in luck. Players also looking for a chance to see if any luck might head their way before catching that flight home can also spin some reels before heading down the jetway.
Keep reading to learn all about playing slot machines in the Las Vegas airport.
Can You Gamble at the Las Vegas Airport?
As one of the oldest gambling jurisdictions in the U.S., Nevada has seen gambling available in locations other than casinos that many players might be surprised to see. Those heading to Las Vegas may find slots in traditional casinos as well as bars, restaurants, taverns, and gas stations.
However some either popular locations also house slot machines – including grocery stores. Even strip clubs have sought to add slots and video poker in recent years, apparently giving some of the gentlemen attending these properties some added entertainment than the dancers on stage.
The airport in Las Vegas may seem like one of the stranger places to play, but this location definitely offers plenty of action. A player grabbing a coffee at Starbucks or breakfast before catching a flight can drop a few bucks in one of their favorite slots, with those terminals resembling casinos at times.
There are numerous slots throughout the facility and playing is available to anyone. The airport can make for a unique environment – hearing the sounds of jackpot bells and other gaming features mixed with airport officials making announcements about gate changes and dreaded flight delays.
Vegas Airport Winners
While many players may not think players in a location like the airport can actually win, you're in a trapped location after all and the operator doesn't necessarily have to give players the best odds.
While these slots could possibly feature lower RTP (return to player – the total coin-in returned to players as a percentage) than other traditional slots and casinos, there have been some significant winners through the years.
In March 2022, a player named William J. of Van Nuys, California enjoyed quite a trip to the airport. After dropping a few dollars in a Wheel of Fortune slot, William recorded a jackpot of $328,655. The six-figure win probably made up for some of the less desirable aspects of today's modern travel experiences.
In November 2020, a player named Ryan C., of Columbus, Ohio, cashed in big for $317,796 on one of the many machines teasing lucky travelers each day. The winning spin came on a 25-cent Wheel of Fortune Triple Red Hot 7 progressive machine. Whether Ryan was flying home or just landed isn't known, but that six-figure win no doubt made for quite a trip.
Another airport payoff came in July 2020 when a woman from Torrance, California, chalked up a win of $873,511 after placing a $5 bet on a Wheel of Fortune 4D penny slot machine.
The largest jackpot recorded at the airport came in January 2005 when a traveler pocketed a score of just under $4 million. Another player at least got into the millions recently as well. In July 2023, the lucky winner had to be overwhelmed after finding a massive win of $1.3 million at the airport. No word if this traveler upgraded to first class on the way home.
"That's one way to end a vacation – as a MILLIONAIRE!" the airport tweeted after the win
Million Dollar Slot Machine in Las Vegas
Progressive jackpot slots are extremely popular and allow players to win massive sums of money. Seven-figure scores do hit on occasion at Reid International, making for some huge airport slot payouts – the perfect way to begin or end a vacation.
The summer of 2023 saw two life-altering jackpots deliver $1 million payouts to two fliers at the airport. On July 24, one slot fan collected $1.3 million while playing Wheel of Fortune Red Hot 7 in Terminal 3. Just a few weeks later, another player grabbed a jackpot of $1.3 million on the Wheel of Fortune Triple Double Emeralds machine in Terminal 1.
What's the allure of playing slots at the airport for gamblers? For many, it's probably the lark of playing in such an odd location. Others may want to test their luck one last time before heading out of Las Vegas while those newly-arrived in town may want to get a bit of gambling going early.
Whatever the case, gamblers seem to enjoy the experience and those machines continue coaxing many gamblers to give the machines a shot. Airport slots look to be here to stay.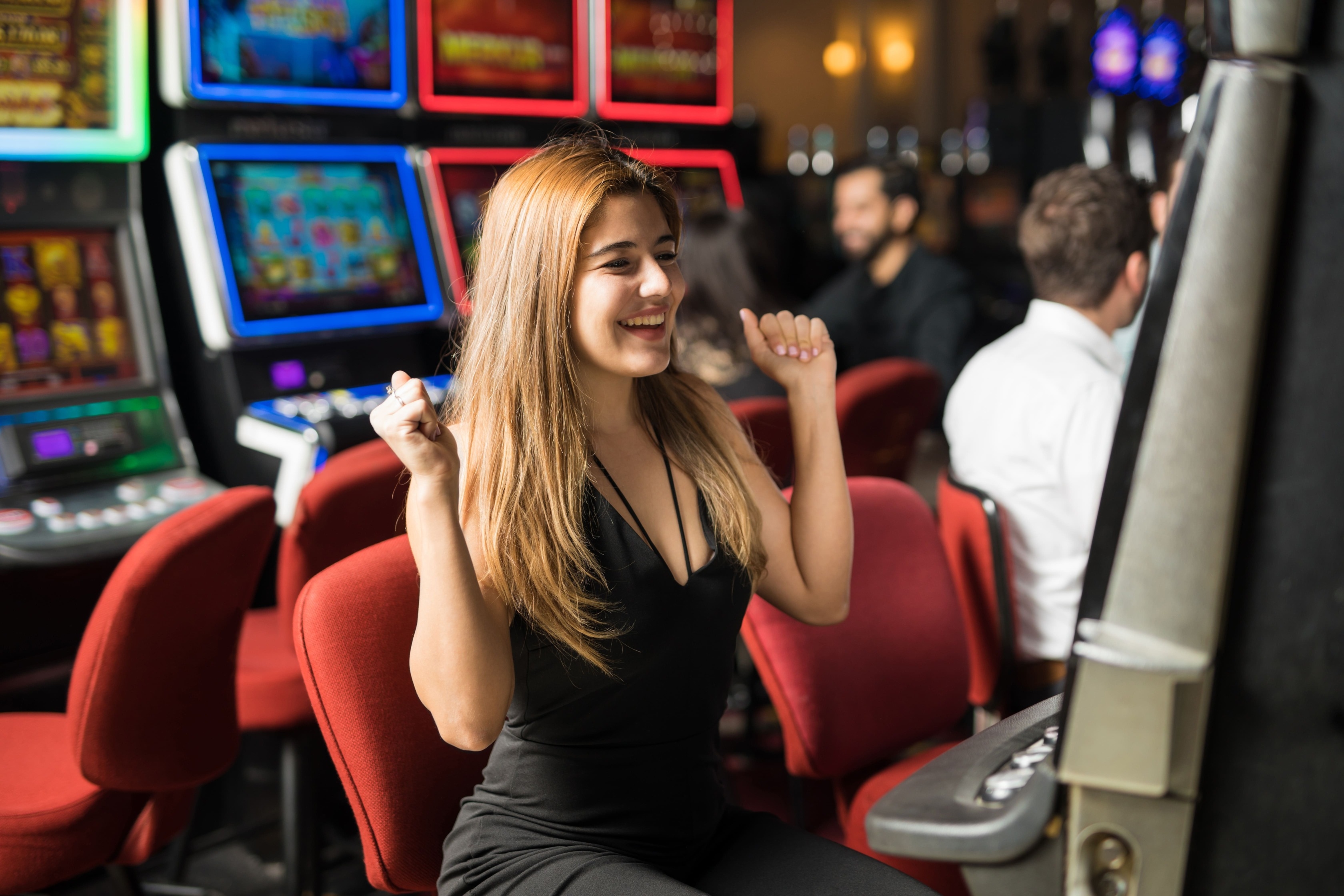 winning at slot machine
Best Slot Machines in the Las Vegas Airport
As noted, progressive jackpot games like Wheel of Fortune offer players a chance at some truly awe-inspiring payouts. As at most Vegas casinos, these progressive games are available at the airport.
RTP can still be critical when choosing what games to play. These percentages can often be found online. It's important to note that these games at the airport tend to be more stingy in this regard, so camping out at a slot near that Delta or American Airlines gate for long hours may not be the best idea.
With many slots available, players can also check out games that appeal to their own interests just as they would at a normal casino. Some games may be highly volatile, meaning they pay out larger amounts but award them less frequently. Other games may be less volatile, meaning more frequent wins that tend to be smaller amounts.
Staying within your stakes and bankroll is also important. Penny slots are even available at the airport, so players at this stakes level have options. Having an idea of what games best fit your gaming habits and desires is key whether playing in the airport or on the Las Vegas Strip.
Who Owns the Slot Machines at the Las Vegas Airport?
While Reid International may not be a traditional casino, the facility's slot operator still must meet regulations outlined by the Nevada Gaming Commission. The games are owned and operated by Michael Gaughan Airport Slot Concession (MGASC).
Gaughan is the son of casino impresario Jackie Gaughan and has been in the gaming industry since 1965. He has owned the El Cortez and the Barbary Coast and helped found the Coast casinos in 1979. HD has also owned South Point Casino since 2006. The father and son have earned respect in the industry and Michale is a member of the University of Nevada – Las Vegas Lee School of Business's Hall of Fame.

"The Gaughans also agree on the philosophy that to be successful in the gaming industry, it's important to take care of everyone from high rollers to the nickel slot players," the Hall of Fame notes.

A lesser-known part of Michael Gaughan's casino holdings might be his airport slot business. With an estimated net worth of $200 million, those slots can apparently pay off, at least for the owner.
In December 2022, MGASC announced that the games had reached $1 billion in revenue since launching in 1986. According to the company, these airport games have generated almost $40 million in gross revenue each year since. That also adds up to an average of $34.4 million in revenue for the airport, which helps to keep airport operating costs down – and in turn, keeps airfare lower, MGASC officials noted.

"We are happy that the slot machines located inside Harry Reid International Airport not only provide Las Vegas visitors the opportunity to spend a few minutes at one of our slot machines while they wait for their flight," MGASC general manager Patricia Ross said, "but that the revenue generated also helps lower the operating costs for airlines at the airport and those lower rates trickle down to tourists who plan on visiting Las Vegas."

How to Play Slots at Las Vegas Airport
If you're a traveler passing through Las Vegas' Harry Reid International Airport, you're in for a unique opportunity to try your luck at slot machines right within the airport premises. Whether you're eager to kickstart your Las Vegas experience or looking to squeeze in some last-minute fun before your departure, here's how you can make the most of playing slots at the Las Vegas airport.
Locating the Slot Machines
Finding the slot machines at the Las Vegas airport is relatively easy. As you navigate through the terminals, you'll come across clusters of slot machines strategically placed for your convenience. These mini-casino areas are designed to catch the eye of passing travelers, making them hard to miss.
Selecting a Slot Machine
Before you start playing, take a moment to browse the available slot machines. You'll find a wide variety of games with different themes and stakes. From classic three-reel slots to more complex video slots, there's something for everyone. Consider your personal preferences, whether you prefer simple gameplay or immersive themes, and choose a machine that suits your style.
Understanding the Basics
If you're new to slot machines, don't worry; they are designed for easy and straightforward gameplay. Here are the basic steps to get you started:
Insert Money: Begin by inserting your money into the slot machine. Most machines accept various denominations, so choose the one that fits your budget.

Place Your Bet: Once your money is in, decide how much you want to bet per spin. You can usually adjust the bet amount using the buttons on the machine.

Spin the Reels: Hit the spin button, and the reels will start to spin. Keep an eye on the symbols as they land; the goal is to get matching symbols on the paylines.

Winning Combinations: Different combinations of symbols result in various payouts. The paytable, typically displayed on the machine, shows you the potential wins for each combination.

Claim Your Winnings: If you land a winning combination, the machine will automatically credit your winnings to your balance. You can continue playing or cash out your winnings when you're ready.
Managing Your Bankroll
It's essential to set a budget for your airport slot machine adventure. Decide how much money you're willing to spend, and stick to that amount. Slot machines can be entertaining, but it's important to gamble responsibly and avoid chasing losses.
Enjoy the Experience
While playing slots at the airport may not offer the same odds or atmosphere as Las Vegas' renowned casinos, it provides a unique and enjoyable way to pass the time during your layover or while waiting for your flight. Whether you're a seasoned gambler or just looking for some quick entertainment, the Las Vegas airport slots offer a convenient and exciting opportunity to test your luck in an unexpected location.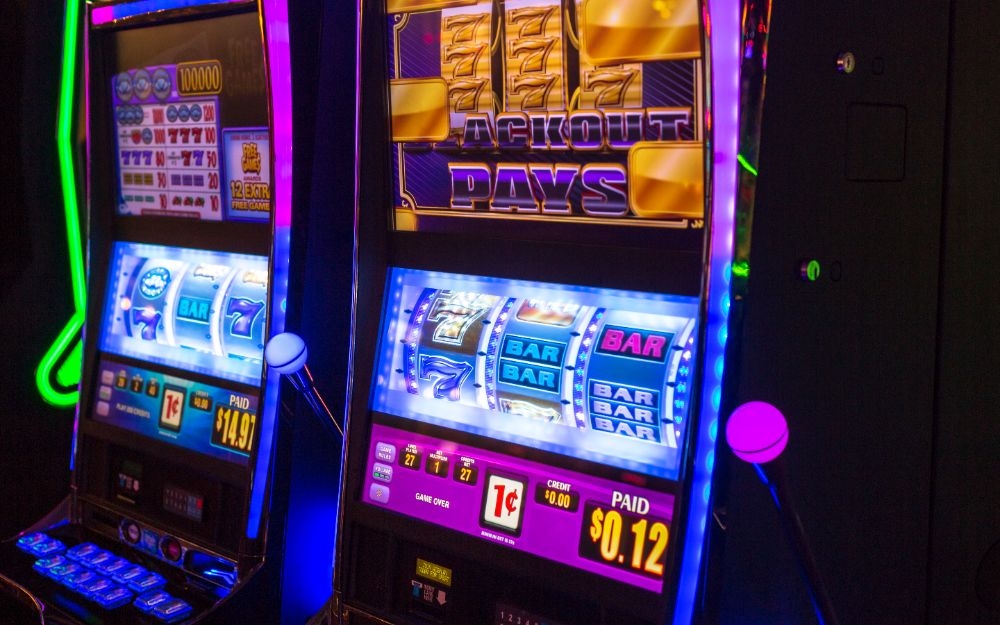 How Many Slot Machines in Las Vegas Airport?
The airport covers 182,987 square feet of space and houses more than 1,430 slots, electronic keno games, and video poker. That's more slots than at some smaller traditional casinos around Las Vegas. By comparison, Sunset Station houses only about 2,000 slots.
Several other smaller casinos pale in comparison to the airport when it comes to the number of slots available. Popular downtown casino the Golden Nugget hosts only 1,500 slots while the small Ellis Island Casino, located just off the Strip behind Horseshoe Las Vegas, boasts only about 250.
MGASC also employs 240 people to oversee and manage the entire operation at the Reid International Airport. But this isn't the only Nevada airport where slot players can continue gambling.
Reno-Tahoe International also hosts about 240 machines, which are owned and operated by one of the world's largest gaming companies, International Game Technology (IGT). Those were installed in 1993 and have been offering fliers an extra chance at winning a jackpot ever since.
Do Slot Machines at Vegas Airport Pay Out?
Slots at the airport tend to have a lower RTP than players might find in other areas of Las Vegas. Airport travelers are a captive audience in both Vegas and Reno, so operators don't have as much incentive to pay back quite as much.
Those terminal slots and video poker may be great for killing some time, but it's probably a good idea not to go crazy with your bankroll and have too high of expectations.

"Airport paybacks are generally far worse than any Strip casino," John Mehaffey, with VegasAdvantage.com, told ThePointsGuy.com.

In fact, WizardofOdds.com rated the airport the lowest when it comes to RTP in a survey of 71 Vegas gambling properties. The airport checked in with an RTP of just slightly above 85%. That means that only 85 cents out of every dollar wagered on the Reid International slots are paid back out to players.
By comparison, that same survey ranked the Palms the top casino with an RTP of just over 93.4% and the Gold Coast coming just below that at over 92.8%. These rankings are a few years old but still offer a good idea of where to play and additional research online can offer even more details.
Should You Gamble at the Airport? Slot Machine Odds at the Las Vegas Airport
Whether to gamble on slots at the airport is up to a person's own individual tastes and interests. Considering your own bankroll is also a key consideration, especially if a player is heading out of town after some serious losing sessions.
However, a few bucks in a slot machine might offer some quick relaxation before heading off on a plane as well as a quick fun spin after landing. Here are some pros and cons of playing airport slots in Las Vegas.

Interested in trying your luck with Las Vegas slots? If you need to learn how to play slots in Vegas, check out this informative article
Slots at the Las Vegas Airport
| Pros | Cons |
| --- | --- |
| Convenience, ease of use | Very poor RTP |
| Wide variety of games and stakes | Could add to losses already incurred |
| Progressive jackpot games available | Poor odds of winning |
| Can be used as a lark, way to pass some time | More exposure to germs is possible |
| Relaxed atmosphere | atmosphere |
Biggest Slot Machine in Vegas
Chances are that if you're a slot fan, you'll find some type of game, stakes, or theme that will interest you. The Strip will feature some of the latest and great video slots with stakes running from one cent per payline all the way up to $5 to more than $100 per spin at properties like Aria, Bellagio, and others. The higher-end Strip casinos also tend to offer some of the highest-limit slots.
From a physical standpoint, Vegas casinos have even featured a few truly massive machines through the years to catch players' eyes. The Slotzilla zipline experience sends downtown Vegas visitors flying through the air, the attraction is also apparently the largest slot machine in the world. Slotzilla is 128 feet tall and features video reels and even a handle.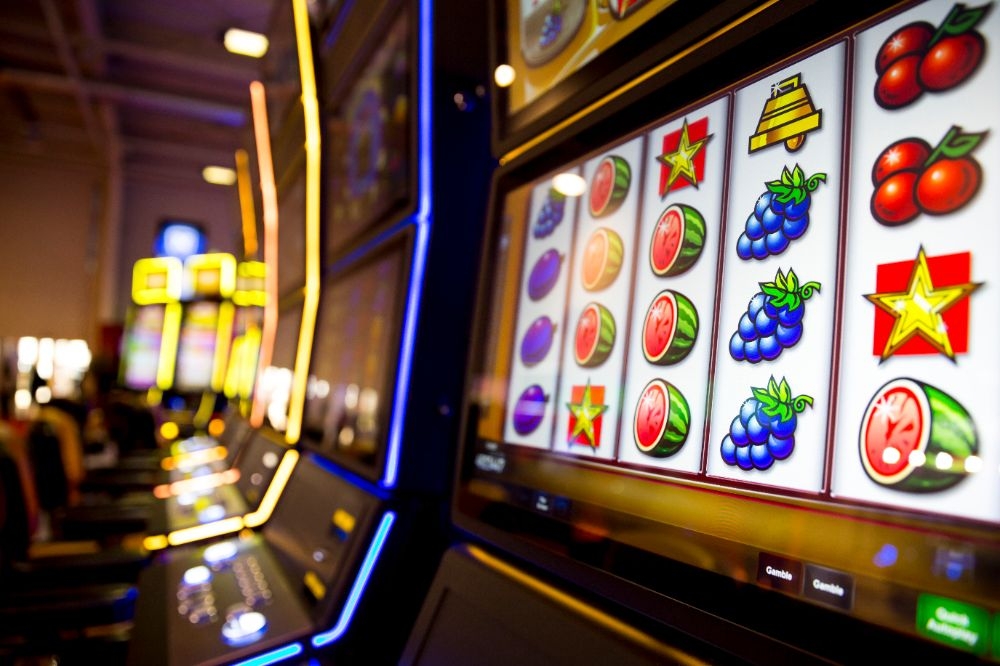 The Golden Nugget also boasts a four-reel slot that measures 8 feet long. The Four Queens once hosted a game called the Queen's Machine, which was 10 feet tall and 9 feet wide. It was once the world's largest slot and offered seating space for six people.
Bally's (now Horseshoe Las Vegas) got in on the mega-slot act as well, once housing a slot called Big Bertha. The game was named after a World War I German howitzer, measured 8 feet tall and 5 feet wide, and reportedly cost $150,000 to manufacture.
Those looking to head back in time may want to check out some classic slots from gambling's past. Head downtown to check out some vintage games with D Las Vegas, one of the last properties offering coin-operated devices. The Plaza also operates some Silver Strike slots, which reward players with commemorative silver coins.
A few slot spins at the airport may be fun, but Las Vegas has so much more to offer slot players.
Conclusion
The Las Vegas and Reno airports are some of the only airports in the world offering fliers the chance to play some slots while waiting on a flight or after touching down on the tarmac. Harry Reid International Airport boasts more than 1,400 slots of all stakes and themes.
The airport even features some progressive slots for players looking to win some truly massive amounts. Playing for a long time at the airport may not be the best idea as players face longer odds to find a winning session compared to other Las Vegas-area casinos.
Airport slots may be a nice way to pass some time, but save some of that bankroll for another trip to your favorite slot.