Slot machines now offer today's players numerous gaming options — all levels of stakes to play, unique and entertaining bonus games, numerous paylines, fun themes, and so much more. And when it comes to wagering, slot manufacturers work to appeal to players of all levels. However, max betting — wagering the maximum allowed — allows players some opportunities at added winnings at times and may be an option for those with larger bankrolls. Here's a complete guide to max betting on today's slot machines. What is max betting? Slots offer differing levels of wagering and payouts can vary based on the amount a player bets per spin. Players can decide if the risk of wagering more is worth the reward that's possible with a winning spin – is the bang worth the buck? After taking a seat at a slot, players can decide how many credits they want to wager per payline. As the name implies, max betting is when the player wagers the maximum number of credits allowed per payline. As an example, take a look at the popular game Blazing Sevens. Here's a look at how this slot pays out based on the credits that a player bets per payline and the best-paying symbols, the sevens and blazing, showing up: Number of credits per payline Any mix of three 7s Three regular 7s Three Blazing 7s 1st credit Not available Not available Not available 2nd credit 100 credits 150 credits 700 credits 3rd credit 200 credits 300 credits Progressive jackpot Some games may pay out even more when max betting on slots (more on that below). But as you can see, wagering the maximum on the slot paylines offers players a chance at some significant payouts. Max Bet vs. Min Bet Slots: Finding Your Betting Strategy When it comes to playing slots, one of the key decisions you'll need to make is whether to place maximum bets (Max Bet) or minimum bets (Min Bet). Each approach comes with its own set of advantages and considerations, and understanding the differences can help you tailor your slot gaming experience to your preferences and bankroll. Aspect Max Bet Slots Min Bet Slots Potential Payouts Higher potential for big wins, including jackpots Smaller payouts on average Risk Higher risk due to larger bets Lower risk with smaller bets Gameplay Pace Faster gameplay, quicker bankroll depletion Slower, more extended sessions Bonus Activation Some features require max bet No specific bet requirements Ideal for Risk-tolerant players, jackpot hunters Budget-conscious players Gaming Experience Intense and thrilling Relaxed and leisurely Accessibility May not be suitable for beginners Great for beginners and low budgets Should You Play Max Bet on Penny Slots? Penny slots have gained popularity for their low minimum bet requirements, allowing players to enjoy the thrill of slot machines without breaking the bank. However, a common question among slot enthusiasts is whether it's worth playing the maximum bet on penny slots. Here are some considerations: Increased Winning Potential: Just like in other slots, playing the maximum bet on penny slots can lead to larger payouts when you hit winning combinations. Some penny slot games offer substantial rewards for max bets. Eligibility for Jackpots: Some penny slot machines feature progressive jackpots that can be won with a maximum bet. If hitting a jackpot is your goal, playing max bet on eligible penny slots is often necessary. Betting within Your Budget: While max betting can be appealing, it's essential to ensure it fits within your budget. Evaluate your bankroll and gambling limits to determine whether max betting on penny slots aligns with your financial plan. Betting Strategies: Some players prefer to gradually increase their bets as they play, while others opt for the maximum bet right from the start. Experiment with different strategies to see what works best for you. Enjoyment vs. Risk: Ultimately, the decision to play max bet on penny slots should align with your gaming preferences. Consider whether the potential for larger wins enhances your enjoyment or if you prefer a more conservative approach. As we explore the advantages of max betting, it's important to note that other symbols on the reels will also have significantly higher payouts at the max bet level. However, what makes max betting particularly intriguing is that, in some cases, the largest payouts aren't accessible to those who don't bet at least two credits. For example, the game's ultimate jackpot remains out of reach for players who don't bet the maximum. Now, let's delve further into this strategy and its implications. Some games may pay out even more when max betting on slots (more on that below). But as you can see, wagering the maximum on the slot paylines offers players a chance at some significant payouts. Check out the paylines and pay tables Knowing about how a game's payouts work will give you an idea of what payouts to expect. As noted above, check out the pay tables, not solely for the largest payouts but other higher paying combinations as well. When it comes to paylines, these can run in numerous directions and have advanced a long way from slots of old. Rather than a simple payline or two running horizontally across the reels, today's games can see paylines run in differing directions to link winning combinations. Some general knowledge of the symbols and winning opportunities can make the experience more enjoyable, and much of that information is available right on the pay table. Players on today's slots also have their choice on the number of paylines they'd like to play as well. When max betting, most players would probably want to choose to play the maximum number of lines as well. A player wouldn't want to miss out on a possible major winning combination by playing the maximum bet but also playing a smaller number of lines. A button right on most machines makes max betting easy. "The max bet button lets you automatically bet the maximum number of credits and paylines allowed per spin on the machine – and ensures you're eligible for the largest possible payout," PlaySmart notes. "Be sure to check the paytable before you set your bet." However, betting the maximum amount per paylines may not be for everyone. Always practice responsible gaming practices when gambling, whether at a live casino or online. Here are some ideas to keep in mind. Set a bankroll and stay within that amount. Only budget funds that you can afford to lose. Slot play should be considered entertainment only. Remember the casino always has an edge when it comes to slot play. Finding an edge isn't going to happen, so stay within your budget – and don't hit the ATM machine. Take breaks, especially during losing sessions to help make sure that your bankroll lasts longer. Know when to quit — either with a nice winning session or by trying to make sure that you don't lose too much. Max betting can pay off with some big wins at times but make sure this kind of play fits well within your own budget. Progressive jackpots Slot players hoping to reach those truly massive payouts as seen in news headlines, known as progressive payouts, should make sure that they're playing these types of games. Progressive slots are connected over a certain region or state, and take a portion of each spin and add that amount to the progressive prize pool. A player who hits the ultimate jackpot can cash in on huge sums of cash — often for millions of dollars. However, to qualify for these jackpots, max betting is often required. If that progressive payout is your goal, you'll want to wager at that level. Other games may not require max betting to qualify but will usually at least require a betting level threshold beyond the minimum wager. How big can progressive jackpots get? Here's a look at a few recent winners: Hail Caesar – Some play on a Dragon Link slot proved to be a nice idea in September 2023 for one player at Caesars Palace in Las Vegas. This lucky player was breathing some fire of his own after chalking up a jackpot of $1.2 million. That will certainly pay for a many return trips to Vegas – and probably help pay off the house as well. Cashing in Canada – Jeffery Stepaniuk, of Saskatchewan, Canada, also hit a mega jackpot in September 2023, at the Gold Horse Casino in Lloydminster, Saskatchewan. This slot stallion secured a haul of $1.1 million on the Saskatchewan Indian Gaming Authorit's Smoke Signals progressive slot network. Eight-Figure Fun – In October, a lucky player at the Excalibur saw a jackpot that dwarfed even some of the million-dollar payouts seen above while on a trip to the Excalibur casino in Las Vegas. This player slayed a Megabucks Spitfire Multipliers Triple Red Hot 7s machine for almost $12.2 million. This property has been home to massive payouts through the years. In April 2023, another player cashed in on a $10 spin for a win of $14 million on a Megabucks progressive. The Excalibur also holds the record for the largest jackpot ever after a 25-year-old software engineer won $39.7 million on a Megabucks slot in 2003. That would be valued at more than $66 million in today's dollars. Progressive slots offer players the chance to win some major amounts, but remember that those odds are still long. Play within your bankroll and your means to have a more entertaining experience. For in-depth insights on mastering progressive slots, don't miss our comprehensive guide on 'How to Play Progressive Slots'. Free play slot platforms Looking to play some slots from home without wagering a dime? Free-to-play slot platforms like Jackpot Party and QuickHitSlots.com offer players a chance to have some fun while not worrying about losing any real money. On these types of platforms, you'll find many of the same slots you might enjoy in a real casino without having any real money on the line or having to leave your comfy couch. Max betting is also allowed with some of the free credits a player can use on the platform. You won't win big bucks, but there are some fun challenges, rewards, and graphics that make for a fun experience. Some benefits of playing free-to-play slots include: Max betting without any real risk. Playing from anywhere. Use the mobile app or play via a browser with no download required. No need to wager real money. No expensive trips to Las Vegas or other locations. Trying out some slots and learning how to play before visiting a live casino. Playing these types of slots can offer some real fun and you just might win that progressive jackpot after max betting – although that might come with some misgivings that the "payout" wasn't for real cash in this case. But as the French say – c'est la vie! Frequently asked questions What is "max betting" on a slot machine? As the name implies, this is when a player wagers the most credits allowed per payline. The higher a player wagers, the more that a machine will pay out for winning spins. Most players betting the maximum will probably want to play all the paylines on the game to make sure they have a better chance to win (more on that below). What are paylines? These are the winning combinations that appear on the reels of a slot machine. Originally, slots used mechanical reels and there were a limited number of horizontal paylines that the symbols had to line up across to secure a win. Today's games feature many more pay lines that can go in many different directions. What are the advantages to max betting? Not only will players win more on winning combinations, but also have the chance to win the jackpot on progressive games. Some games may also pay out at better odds at higher limits as well. However, it's important to stay within your own budget and betting bankroll.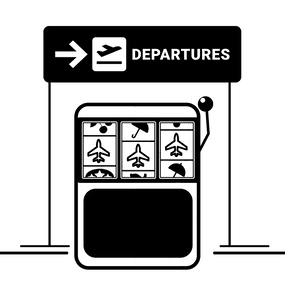 Many gamblers can't wait to land in Las Vegas and hit the slots. On the other hand, some players who may have taken too many losses may be looking forward to heading out of town. Whichever scenario may apply, Sin City's Harry Reid International Airport is one of the few airports in the world where players can head to the slots. Those seeking a quick spin or two before hedging off to their casino hotels are in luck. Players also looking for a chance to see if any luck might head their way before catching that flight home can also spin some reels before heading down the jetway. Keep reading to learn all about playing slot machines in the Las Vegas airport. Can You Gamble at the Las Vegas Airport? As one of the oldest gambling jurisdictions in the U.S., Nevada has seen gambling available in locations other than casinos that many players might be surprised to see. Those heading to Las Vegas may find slots in traditional casinos as well as bars, restaurants, taverns, and gas stations. However some either popular locations also house slot machines – including grocery stores. Even strip clubs have sought to add slots and video poker in recent years, apparently giving some of the gentlemen attending these properties some added entertainment than the dancers on stage. The airport in Las Vegas may seem like one of the stranger places to play, but this location definitely offers plenty of action. A player grabbing a coffee at Starbucks or breakfast before catching a flight can drop a few bucks in one of their favorite slots, with those terminals resembling casinos at times. There are numerous slots throughout the facility and playing is available to anyone. The airport can make for a unique environment – hearing the sounds of jackpot bells and other gaming features mixed with airport officials making announcements about gate changes and dreaded flight delays. Vegas Airport Winners While many players may not think players in a location like the airport can actually win, you're in a trapped location after all and the operator doesn't necessarily have to give players the best odds. While these slots could possibly feature lower RTP (return to player – the total coin-in returned to players as a percentage) than other traditional slots and casinos, there have been some significant winners through the years. In March 2022, a player named William J. of Van Nuys, California enjoyed quite a trip to the airport. After dropping a few dollars in a Wheel of Fortune slot, William recorded a jackpot of $328,655. The six-figure win probably made up for some of the less desirable aspects of today's modern travel experiences. In November 2020, a player named Ryan C., of Columbus, Ohio, cashed in big for $317,796 on one of the many machines teasing lucky travelers each day. The winning spin came on a 25-cent Wheel of Fortune Triple Red Hot 7 progressive machine. Whether Ryan was flying home or just landed isn't known, but that six-figure win no doubt made for quite a trip. Another airport payoff came in July 2020 when a woman from Torrance, California, chalked up a win of $873,511 after placing a $5 bet on a Wheel of Fortune 4D penny slot machine. The largest jackpot recorded at the airport came in January 2005 when a traveler pocketed a score of just under $4 million. Another player at least got into the millions recently as well. In July 2023, the lucky winner had to be overwhelmed after finding a massive win of $1.3 million at the airport. No word if this traveler upgraded to first class on the way home. "That's one way to end a vacation – as a MILLIONAIRE!" the airport tweeted after the win Million Dollar Slot Machine in Las Vegas Progressive jackpot slots are extremely popular and allow players to win massive sums of money. Seven-figure scores do hit on occasion at Reid International, making for some huge airport slot payouts – the perfect way to begin or end a vacation. The summer of 2023 saw two life-altering jackpots deliver $1 million payouts to two fliers at the airport. On July 24, one slot fan collected $1.3 million while playing Wheel of Fortune Red Hot 7 in Terminal 3. Just a few weeks later, another player grabbed a jackpot of $1.3 million on the Wheel of Fortune Triple Double Emeralds machine in Terminal 1. What's the allure of playing slots at the airport for gamblers? For many, it's probably the lark of playing in such an odd location. Others may want to test their luck one last time before heading out of Las Vegas while those newly-arrived in town may want to get a bit of gambling going early. Whatever the case, gamblers seem to enjoy the experience and those machines continue coaxing many gamblers to give the machines a shot. Airport slots look to be here to stay. Best Slot Machines in the Las Vegas Airport As noted, progressive jackpot games like Wheel of Fortune offer players a chance at some truly awe-inspiring payouts. As at most Vegas casinos, these progressive games are available at the airport. RTP can still be critical when choosing what games to play. These percentages can often be found online. It's important to note that these games at the airport tend to be more stingy in this regard, so camping out at a slot near that Delta or American Airlines gate for long hours may not be the best idea. With many slots available, players can also check out games that appeal to their own interests just as they would at a normal casino. Some games may be highly volatile, meaning they pay out larger amounts but award them less frequently. Other games may be less volatile, meaning more frequent wins that tend to be smaller amounts. Staying within your stakes and bankroll is also important. Penny slots are even available at the airport, so players at this stakes level have options. Having an idea of what games best fit your gaming habits and desires is key whether playing in the airport or on the Las Vegas Strip. Who Owns the Slot Machines at the Las Vegas Airport? While Reid International may not be a traditional casino, the facility's slot operator still must meet regulations outlined by the Nevada Gaming Commission. The games are owned and operated by Michael Gaughan Airport Slot Concession (MGASC). Gaughan is the son of casino impresario Jackie Gaughan and has been in the gaming industry since 1965. He has owned the El Cortez and the Barbary Coast and helped found the Coast casinos in 1979. HD has also owned South Point Casino since 2006. The father and son have earned respect in the industry and Michale is a member of the University of Nevada – Las Vegas Lee School of Business's Hall of Fame. "The Gaughans also agree on the philosophy that to be successful in the gaming industry, it's important to take care of everyone from high rollers to the nickel slot players," the Hall of Fame notes. A lesser-known part of Michael Gaughan's casino holdings might be his airport slot business. With an estimated net worth of $200 million, those slots can apparently pay off, at least for the owner. In December 2022, MGASC announced that the games had reached $1 billion in revenue since launching in 1986. According to the company, these airport games have generated almost $40 million in gross revenue each year since. That also adds up to an average of $34.4 million in revenue for the airport, which helps to keep airport operating costs down – and in turn, keeps airfare lower, MGASC officials noted. "We are happy that the slot machines located inside Harry Reid International Airport not only provide Las Vegas visitors the opportunity to spend a few minutes at one of our slot machines while they wait for their flight," MGASC general manager Patricia Ross said, "but that the revenue generated also helps lower the operating costs for airlines at the airport and those lower rates trickle down to tourists who plan on visiting Las Vegas." How to Play Slots at Las Vegas Airport If you're a traveler passing through Las Vegas' Harry Reid International Airport, you're in for a unique opportunity to try your luck at slot machines right within the airport premises. Whether you're eager to kickstart your Las Vegas experience or looking to squeeze in some last-minute fun before your departure, here's how you can make the most of playing slots at the Las Vegas airport. Locating the Slot Machines Finding the slot machines at the Las Vegas airport is relatively easy. As you navigate through the terminals, you'll come across clusters of slot machines strategically placed for your convenience. These mini-casino areas are designed to catch the eye of passing travelers, making them hard to miss. Selecting a Slot Machine Before you start playing, take a moment to browse the available slot machines. You'll find a wide variety of games with different themes and stakes. From classic three-reel slots to more complex video slots, there's something for everyone. Consider your personal preferences, whether you prefer simple gameplay or immersive themes, and choose a machine that suits your style. Understanding the Basics If you're new to slot machines, don't worry; they are designed for easy and straightforward gameplay. Here are the basic steps to get you started: Insert Money: Begin by inserting your money into the slot machine. Most machines accept various denominations, so choose the one that fits your budget. Place Your Bet: Once your money is in, decide how much you want to bet per spin. You can usually adjust the bet amount using the buttons on the machine. Spin the Reels: Hit the spin button, and the reels will start to spin. Keep an eye on the symbols as they land; the goal is to get matching symbols on the paylines. Winning Combinations: Different combinations of symbols result in various payouts. The paytable, typically displayed on the machine, shows you the potential wins for each combination. Claim Your Winnings: If you land a winning combination, the machine will automatically credit your winnings to your balance. You can continue playing or cash out your winnings when you're ready. Managing Your Bankroll It's essential to set a budget for your airport slot machine adventure. Decide how much money you're willing to spend, and stick to that amount. Slot machines can be entertaining, but it's important to gamble responsibly and avoid chasing losses. Enjoy the Experience While playing slots at the airport may not offer the same odds or atmosphere as Las Vegas' renowned casinos, it provides a unique and enjoyable way to pass the time during your layover or while waiting for your flight. Whether you're a seasoned gambler or just looking for some quick entertainment, the Las Vegas airport slots offer a convenient and exciting opportunity to test your luck in an unexpected location. How Many Slot Machines in Las Vegas Airport? The airport covers 182,987 square feet of space and houses more than 1,430 slots, electronic keno games, and video poker. That's more slots than at some smaller traditional casinos around Las Vegas. By comparison, Sunset Station houses only about 2,000 slots. Several other smaller casinos pale in comparison to the airport when it comes to the number of slots available. Popular downtown casino the Golden Nugget hosts only 1,500 slots while the small Ellis Island Casino, located just off the Strip behind Horseshoe Las Vegas, boasts only about 250. MGASC also employs 240 people to oversee and manage the entire operation at the Reid International Airport. But this isn't the only Nevada airport where slot players can continue gambling. Reno-Tahoe International also hosts about 240 machines, which are owned and operated by one of the world's largest gaming companies, International Game Technology (IGT). Those were installed in 1993 and have been offering fliers an extra chance at winning a jackpot ever since. Do Slot Machines at Vegas Airport Pay Out? Slots at the airport tend to have a lower RTP than players might find in other areas of Las Vegas. Airport travelers are a captive audience in both Vegas and Reno, so operators don't have as much incentive to pay back quite as much. Those terminal slots and video poker may be great for killing some time, but it's probably a good idea not to go crazy with your bankroll and have too high of expectations. "Airport paybacks are generally far worse than any Strip casino," John Mehaffey, with VegasAdvantage.com, told ThePointsGuy.com. In fact, WizardofOdds.com rated the airport the lowest when it comes to RTP in a survey of 71 Vegas gambling properties. The airport checked in with an RTP of just slightly above 85%. That means that only 85 cents out of every dollar wagered on the Reid International slots are paid back out to players. By comparison, that same survey ranked the Palms the top casino with an RTP of just over 93.4% and the Gold Coast coming just below that at over 92.8%. These rankings are a few years old but still offer a good idea of where to play and additional research online can offer even more details. Should You Gamble at the Airport? Slot Machine Odds at the Las Vegas Airport Whether to gamble on slots at the airport is up to a person's own individual tastes and interests. Considering your own bankroll is also a key consideration, especially if a player is heading out of town after some serious losing sessions. However, a few bucks in a slot machine might offer some quick relaxation before heading off on a plane as well as a quick fun spin after landing. Here are some pros and cons of playing airport slots in Las Vegas. Interested in trying your luck with Las Vegas slots? If you need to learn how to play slots in Vegas, check out this informative article Slots at the Las Vegas Airport Pros Cons Convenience, ease of use Very poor RTP Wide variety of games and stakes Could add to losses already incurred Progressive jackpot games available Poor odds of winning Can be used as a lark, way to pass some time More exposure to germs is possible Relaxed atmosphere atmosphere Biggest Slot Machine in Vegas Chances are that if you're a slot fan, you'll find some type of game, stakes, or theme that will interest you. The Strip will feature some of the latest and great video slots with stakes running from one cent per payline all the way up to $5 to more than $100 per spin at properties like Aria, Bellagio, and others. The higher-end Strip casinos also tend to offer some of the highest-limit slots. From a physical standpoint, Vegas casinos have even featured a few truly massive machines through the years to catch players' eyes. The Slotzilla zipline experience sends downtown Vegas visitors flying through the air, the attraction is also apparently the largest slot machine in the world. Slotzilla is 128 feet tall and features video reels and even a handle. The Golden Nugget also boasts a four-reel slot that measures 8 feet long. The Four Queens once hosted a game called the Queen's Machine, which was 10 feet tall and 9 feet wide. It was once the world's largest slot and offered seating space for six people. Bally's (now Horseshoe Las Vegas) got in on the mega-slot act as well, once housing a slot called Big Bertha. The game was named after a World War I German howitzer, measured 8 feet tall and 5 feet wide, and reportedly cost $150,000 to manufacture. Those looking to head back in time may want to check out some classic slots from gambling's past. Head downtown to check out some vintage games with D Las Vegas, one of the last properties offering coin-operated devices. The Plaza also operates some Silver Strike slots, which reward players with commemorative silver coins. A few slot spins at the airport may be fun, but Las Vegas has so much more to offer slot players. Conclusion The Las Vegas and Reno airports are some of the only airports in the world offering fliers the chance to play some slots while waiting on a flight or after touching down on the tarmac. Harry Reid International Airport boasts more than 1,400 slots of all stakes and themes. The airport even features some progressive slots for players looking to win some truly massive amounts. Playing for a long time at the airport may not be the best idea as players face longer odds to find a winning session compared to other Las Vegas-area casinos. Airport slots may be a nice way to pass some time, but save some of that bankroll for another trip to your favorite slot.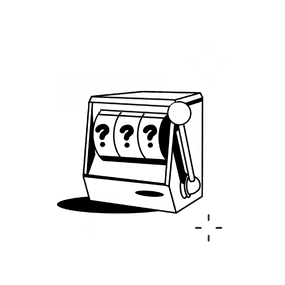 Slot machines have long been a source of excitement and entertainment in casinos. The allure of hitting the jackpot and the thrill of seeing the reels spin make slot gaming a favorite pastime for many. But have you ever wondered what makes these games truly random? The answer lies in the Slot Machine Random Number Generator (RNG). In this comprehensive guide, we'll delve into the inner workings of RNGs in slot machines, from their history to their role in creating a fair gaming experience. So, let's pull back the curtain and uncover the secrets of the slots. What is a Slot Machine Random Number Generator? At its core, a Slot Machine Random Number Generator, or RNG, is the digital brain that determines the outcome of every spin on a slot machine. It's the invisible force behind the flashing lights and spinning reels. But how does it work? In a nutshell: An RNG generates a sequence of random numbers at an incredibly high speed, and these numbers correspond to different symbols on the slot's reels. When you hit the spin button, the RNG stops at a specific number, and that number dictates the symbols that appear on the screen. Why is this important? It ensures that the outcome of each spin is entirely unpredictable, making slot gaming fair and thrilling. Whether you win or lose is purely a matter of chance, with the RNG ensuring that no one can predict the results. History of RNG in Slot Machines The journey of RNGs in slot machines is a fascinating one. In the early days of slots, the outcomes were purely mechanical, determined by the physical components of the machine. However, with the advent of electronic slot machines, RNG technology began to take center stage. 1950s - Mechanical Slots: The earliest slot machines used mechanical mechanisms such as spinning reels and levers. Outcomes were determined by the physical alignment of the reels. 1970s - Electronic Slots: The introduction of electronic slot machines marked a turning point. These machines used RNGs, which were capable of producing random results without mechanical components. Today - Digital Precision: Modern slot machines, including those in online casinos, rely on sophisticated digital RNGs. These RNGs are governed by complex algorithms and are rigorously tested to ensure fairness. Types of RNGs in Slot Machines Random Number Generators (RNGs) are the backbone of slot machines, ensuring that each spin is unpredictable and fair. There are two primary types of RNGs used in slot machines, each with its own unique characteristics and applications: 1. Pseudorandom Number Generators (PRNGs) Pseudorandom Number Generators, commonly referred to as PRNGs, are the more traditional type of RNG used in slot machines. They operate based on algorithms and mathematical formulas to generate sequences of numbers that closely resemble true randomness. Here's how PRNGs work: Algorithmic Generation: PRNGs rely on mathematical algorithms and initial seed values to produce a sequence of numbers. While these numbers appear random, they are generated through deterministic processes. Repeatability: PRNGs are deterministic, meaning that if you know the initial seed value and the algorithm used, you can predict the entire sequence of numbers. However, the speed at which PRNGs operate makes predicting outcomes practically impossible during actual gameplay. Predefined Sequences: PRNGs generate sequences that are predetermined based on the algorithm and seed value. Once a sequence is generated, it repeats, creating cycles. These cycles are exceptionally long, often in the billions or trillions, making them virtually indistinguishable from true randomness in practical terms. 2. True Random Number Generators (TRNGs) True Random Number Generators, known as TRNGs, take a fundamentally different approach to generating randomness. Instead of relying on algorithms, TRNGs extract randomness from physical processes or phenomena. Here's how TRNGs work: Physical Processes: TRNGs use unpredictable physical processes, such as electronic noise, radioactive decay, or atmospheric noise, to generate random numbers. These processes inherently exhibit true randomness, making TRNGs genuinely unpredictable. No Repeat Patterns: TRNGs have no repeating sequences because their randomness is derived from inherently unpredictable natural events. This property ensures that each number generated is entirely unique and unrelated to any previous or future numbers. Higher Complexity: TRNGs are more complex and can be slower in generating random numbers compared to PRNGs. However, their reliance on true randomness makes them highly desirable for applications where absolute unpredictability is crucial, such as cryptographic systems. In the world of slot machines, both PRNGs and TRNGs have found their place. PRNGs are commonly used in traditional land-based slot machines and electronic gaming machines in casinos. They provide the appearance of randomness while allowing for efficient operation. TRNGs, on the other hand, are often employed in high-security applications, such as online casinos that require absolute randomness for cryptographic purposes. How Do RNGs Work in Slot Machines? To truly appreciate the magic behind slot machines, it's essential to understand the inner workings of Random Number Generators (RNGs). These intricate algorithms are the heartbeat of slot gaming, responsible for generating the unpredictable outcomes that make each spin an exhilarating experience. Continuous Number Generation At the core of every slot machine is an RNG that operates continuously, producing an uninterrupted stream of random numbers. These numbers are generated through complex mathematical algorithms specifically designed to replicate true randomness. Here's a closer look at how this process unfolds: High-Speed Operation: RNGs generate numbers at an astonishing rate, often producing thousands of random numbers per second. This rapid operation ensures that the outcomes of spins appear instantaneous to players. Independence of Numbers: One of the fundamental principles of RNGs is that each number generated is entirely independent of the numbers that came before it and those that will follow. This independence guarantees that the result of one spin does not affect the outcome of the next. Maximizing Entropy: Entropy is a measure of unpredictability, and RNGs aim to maximize it. By doing so, they ensure that the sequence of numbers generated is genuinely random, devoid of any discernible patterns or predictability. Mapping to Symbols Once an RNG generates a random number, it must determine how this number corresponds to the symbols on the virtual reels of the slot machine. Each symbol is linked to a range of numbers or specific numbers within the RNG's sequence. For example, a "7" symbol might correspond to numbers 1 to 10, while a "cherry" symbol could be associated with numbers 11 to 20. Initiating a Spin When a player initiates a spin by pressing the spin button or pulling the lever, the RNG comes into play. It quickly stops at a specific random number from its continuous stream. This selected number dictates the final positions of the slot machine's reels and, consequently, the symbols displayed on the screen. Displaying the Outcome The symbols associated with the chosen random number are displayed on the screen, presenting the results of the spin to the player. This entire process transpires in a fraction of a second, creating the illusion of spinning reels and injecting an element of anticipation and excitement into the gaming experience. Ensuring Fairness and Unpredictability The primary purpose of RNGs is to ensure the fairness and unpredictability of slot machines. By generating numbers that are entirely random and independent, the RNG eliminates any possibility of players predicting or influencing the outcomes. This level of unpredictability is what makes each spin a unique event and ensures that slot gaming remains a game of chance. Complex Algorithms Modern RNGs employ highly complex algorithms to generate random numbers. These algorithms take into account various factors, including user interactions (such as pressing the spin button), time-based seed values, and mathematical formulas, to create outcomes that are genuinely unpredictable. Debunking Common RNG Myths and Misconceptions As with any aspect of gambling, RNGs have their fair share of myths and misconceptions. Let's dispel some of the most common ones: Myth 1: Slot Machines Have Hot and Cold Cycles: Some players believe that slots go through cycles of "hot" and "cold" periods. In reality, each spin is independent, and past outcomes do not influence future ones. Myth 2: Players Can Predict the Next Outcome: The outcome of each spin is determined in a split second by the RNG. There's no way for players to predict or control it. Myth 3: Casino Operators Can Manipulate RNG: Casinos have no control over the outcomes generated by an RNG. Rigorous regulations and independent audits ensure the integrity of the process. Player Strategies for RNG-Based Games While RNGs make every spin unpredictable, players can employ certain strategies to enhance their gaming experience: Bankroll Management: Set limits on how much you're willing to spend and stick to your budget. Never wager more than you can afford to lose. Understanding RTP and Volatility: Learn about a slot's Return to Player (RTP) percentage and volatility. These metrics provide insights into a game's potential payouts and risk levels. Embracing the Randomness: Slot machines are games of chance. Embrace the randomness and savor the excitement of unpredictability. Principles of the Random Number Generator (RNG) Understanding the principles that underlie the operation of Random Number Generators (RNGs) in slot machines is essential for appreciating their role in maintaining fairness and unpredictability in gameplay. Here, we delve into the core principles that define the functionality of RNGs. True Randomness At the heart of RNGs is the pursuit of true randomness. True randomness means that each generated number is entirely independent of all previous and future numbers, and no patterns or predictability exist. Achieving this level of unpredictability is paramount for ensuring fairness and the element of chance in slot gaming. Continuous Number Generation RNGs operate continuously, generating a rapid stream of random numbers at a rate of thousands per second. This high-speed operation ensures that outcomes appear instantaneous to players, enhancing the excitement of slot gameplay. Independence of Numbers One fundamental principle of RNGs is the independence of generated numbers. Each number produced is entirely unrelated to those that came before or those that will follow. This independence ensures that the outcome of one spin has no influence on the outcome of the next, reinforcing the element of chance. Mapping to Symbols Once an RNG generates a random number, it must map that number to the various symbols on the virtual reels. Each symbol corresponds to a range of numbers or specific numbers within the RNG's sequence. This mapping process dictates the outcome of each spin and is essential for creating the visual display of the game. High Entropy Entropy, in the context of RNGs, is a measure of unpredictability. RNGs aim to maximize entropy to ensure that the sequence of numbers they generate is genuinely random. High entropy means that there are no discernible patterns, repetitions, or biases in the generated numbers. Player Interaction Player interactions, such as pressing the spin button or initiating a game, introduce additional randomness into the RNG's process. These interactions can influence the starting point of the RNG sequence, adding an element of unpredictability to the outcomes. Rigorous Testing To ensure that RNGs adhere to these principles, rigorous testing is a fundamental requirement. Independent testing agencies thoroughly assess the RNG's performance to verify that it generates truly random outcomes. This testing and certification process is crucial for building trust among players and regulators. Continuous Improvement As technology evolves, so do RNGs. Ongoing research and development efforts aim to enhance the complexity and efficiency of RNG algorithms. This continuous improvement ensures that RNGs remain at the forefront of fairness and unpredictability in slot gaming. The Science Behind Calculating RNG Slot Machine Payout Percentages The payout percentage of a slot machine, often referred to as the Return to Player (RTP), is a critical metric that defines the likelihood of players winning over time. Understanding the science behind how these percentages are calculated reveals the intricate mechanisms that govern slot machine payouts. The Fundamentals of RTP At its core, the RTP represents the portion of total bets that a slot machine is designed to return to players over an extended period. It is expressed as a percentage, typically ranging from 90% to 98% or more, and is a crucial factor in determining a slot's attractiveness to players. RNG and Payout Calculations The Random Number Generator (RNG) serves as the foundation for calculating slot machine payouts. To comprehend how this works, consider the following principles: Outcome Frequency: The RNG generates a vast sequence of random numbers, each corresponding to a specific outcome on the slot machine. For instance, hitting a jackpot may be linked to a rare combination of numbers. Symbol Weighting: Symbols on the virtual reels have different weights assigned to them. Some symbols may have higher probabilities of appearing than others. The RNG accounts for these weightings when generating numbers. Paytable Information: The paytable of a slot machine outlines the payouts for each winning combination. It details how much a player wins when specific symbols align on the reels. Simulating Millions of Spins Calculating the RTP involves simulating millions of spins on the slot machine. Here's a simplified breakdown of the process: Generate Random Numbers: The RNG generates a sequence of random numbers that correspond to different outcomes. These outcomes include wins, losses, and everything in between. Apply Symbol Weighting: The RNG considers the symbol weighting to determine which symbols appear more frequently than others. Calculate Payouts: For each spin, the machine calculates the payout based on the winning combinations achieved. The cumulative payouts over millions of spins are recorded. Divide Payouts by Total Bets: The total payouts are divided by the total bets made during the simulation. This calculation provides the RTP percentage. Continuous Testing: Game developers and regulatory bodies conduct extensive testing to verify the calculated RTP and ensure that it aligns with the advertised percentage. Player Variance and Volatility It's important to note that while the RTP provides an overall average, individual player experiences may vary widely. Some players may win substantial amounts, while others may face losses. This variance is due to the inherent volatility of slot machines, which can result in streaks of wins or losses. Transparency and Fair Play The science behind calculating RNG slot machine payout percentages underscores the importance of transparency and fair play in the gaming industry. Regulatory bodies enforce strict standards to ensure that players receive the advertised RTP and that games are free from manipulation. In conclusion, the science behind calculating RNG slot machine payout percentages involves a complex process of simulating countless spins, applying symbol weightings, and accounting for player variance. This process ensures that players can trust in the fairness and integrity of slot machines, while also providing the excitement of the unpredictability that defines this popular form of entertainment. Conclusion In the realm of casino gaming, the Random Number Generator (RNG) is the unseen orchestrator, ensuring fairness and unpredictability in slot machines. From the core principles of true randomness to the science behind payout percentages, the RNG is both the architect and guardian of slot gaming. Understanding the RNG's role in mapping symbols, calculating payouts, and maintaining transparency underscores its significance. The investment in quality RNG chips and rigorous testing ensures a gaming environment where trust thrives. In essence, the RNG is the wizard behind the spinning reels, inviting players to embrace chance and savor the thrill of the unknown with every spin. It's the heartbeat of excitement that defines the world of slot gaming. So, when you hear the call of the slot machine, remember the RNG—the mastermind behind the magic.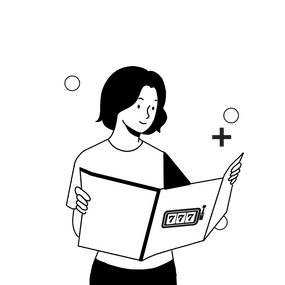 Introduction Slot machines have been a beloved pastime for casino enthusiasts for decades. They're easy to understand, thrilling to play, and offer the possibility of massive jackpots. Among the various types of slot machines, progressive slots stand out as the pinnacle of excitement and anticipation. In this comprehensive guide, we'll delve deep into the world of progressive slots, helping you understand how to play, strategize, and maximize your chances of winning those life-changing jackpots. The Basics of Progressive Slots Progressive slots are not your average slot machines. They come with a unique twist – a constantly growing jackpot. Unlike classic slots with fixed jackpots, progressive slots pool a portion of each bet made into a central jackpot. This means that with every spin, the jackpot gets bigger until one lucky player hits the ultimate payday. How Progressive Slots Differ from Regular Slots The key difference between progressive slots and their traditional counterparts lies in the jackpot structure. In regular slots, the jackpot amount is fixed and doesn't change regardless of how much is wagered. In contrast, progressive slots have a jackpot that increases incrementally as players make bets. This creates a sense of excitement and anticipation as the jackpot continues to grow until someone wins it. The Appeal of Progressive Slots What makes progressive slots so appealing to players is the potential for life-altering wins. These games have been responsible for turning everyday players into millionaires in an instant. The prospect of hitting that massive jackpot is a powerful draw for gamblers seeking the thrill of a lifetime. Progressive slots also come in various slot themes and styles, offering a wide range of experiences. Whether you prefer classic fruit machines or themed slots based on your favorite movies, there's likely a progressive slot game to suit your tastes. In addition to the jackpot, many progressive slots feature bonus rounds, free spins, and other exciting features that add to the overall entertainment value. It's not just about chasing the big prize; it's also about enjoying the journey. How to Get Started with Progressive Slots Starting your journey into the world of progressive slots is easy. Here's a step-by-step guide to help you get started: 1. Choose Your Progressive Slot Begin by selecting the progressive slot game you want to play. There are various themes and styles to choose from, so pick one that piques your interest. 2. Set Your Bet Once you've chosen a slot, it's time to set your bet. Here's how to do it: Coin Denomination: Choose the denomination of the coins you want to bet. This determines the value of each coin you wager. Most progressive slots allow you to adjust the coin denomination according to your preferences. Number of Coins per Line: Decide how many coins you want to bet on each payline. Some slots offer the option to bet multiple coins per line, increasing your potential winnings. Number of Paylines: Progressive slots typically have multiple paylines, and you can choose how many you want to activate. Activating more paylines increases your chances of winning but also increases your total bet. Bet Max (Optional): If you're feeling lucky and want a chance at the maximum jackpot, you can use the "Bet Max" button to automatically select the highest coin denomination, and maximum number of coins per line, and activate all available paylines. 3. Spin the Reels With your bet settings in place, it's time to spin the reels. Click the "Spin" button or pull the virtual lever, depending on the interface of the slot you're playing. The reels will start spinning, and symbols will land randomly on the paylines. 4. Wait for the Outcome Progressive slots are purely luck-based, and the outcome of each spin is entirely random. You'll need a winning combination of symbols on an active payline to secure a prize. Keep in mind that hitting the progressive jackpot is exceptionally rare and relies on sheer luck. 5. Celebrate Your Wins If you land a winning combination, the game will display your winnings, and they will be added to your balance. Celebrate your smaller wins, and remember that progressive slots offer the chance for both modest and life-changing payouts. 6. Continue Playing (Optional) You can continue spinning the reels as long as you like or until you decide to cash out your winnings or change your bet settings. Progressive slots provide a thrilling gaming experience, and the next spin could be the one that changes your life. Remember that while you can control your bet settings and spinning the reels, the outcome of each spin is determined by a random number generator (RNG). It's a game of pure luck, and there are no strategies to predict or influence the results. How Progressive Slots Work Understanding the mechanics of progressive slots is essential as it sheds light on why these games offer such tantalizing jackpots. Here's a closer look at how progressive slots operate: 1. Jackpot Accumulation Progressive slots feature a unique jackpot system where a portion of each bet made by players is added to a central jackpot pool. This means that every time someone spins the reels on a progressive slot machine, a fraction of their wager contributes to the ever-increasing jackpot. 2. Types of Progressive Slots There are three main types of progressive slots: Standalone Progressives: These are individual slot machines with their own progressive jackpot. The jackpot size is determined by the bets placed on that specific machine. Local Progressives: Multiple slot machines within the same casino or gaming establishment are linked together. They contribute to a common jackpot pool, increasing the potential winnings. Wide Area Network (WAN) Progressives: These are the most lucrative progressive slots. They are connected across various casinos, often spanning entire regions or even countries. WAN progressives can offer life-changing jackpots due to the massive number of players contributing to the pot. 3. Hitting the Jackpot To win the progressive jackpot, players typically need to land a specific combination of symbols on a designated payline. This combination varies from one progressive slot to another and is usually the most challenging to achieve. In some cases, making the maximum bet is necessary to be eligible for the jackpot. 4. Resetting the Jackpot Once a player hits the progressive jackpot, the jackpot pool is reset to a predetermined minimum amount. From there, it starts accumulating again as players continue to make bets. This ensures that there's always a substantial prize available for those who aim for the big win. 5. Random Number Generators (RNG) Progressive slots, like all slot machines, rely on Random Number Generators (RNGs) to determine the outcome of each spin. RNGs ensure that the results are entirely random and unpredictable, adding an element of chance to the game. Understanding how progressive slots work is crucial for players looking to try their luck. Keep in mind that while the odds of hitting the jackpot are slim, it's the thrill of the chase and the possibility of life-changing winnings that make progressive slots so exciting. Rules and Gameplay: A Game of Pure Luck Understanding the rules and gameplay of progressive slots is essential to maximize your enjoyment and acknowledge that it's a game of pure luck. Here's what you need to know: 1. Symbols and Paylines In traditional slot machines, winning combinations are formed by matching specific symbols on predefined paylines, typically from left to right. However, in progressive slots, you may encounter different types of paylines, including zigzag patterns and diagonal lines. It's essential to understand how the paylines work in the particular slot you're playing to know when you've won. 2. Special Features and Bonus Rounds: Random Rewards Many progressive slots offer exciting special features and bonus rounds that can significantly boost your winnings. These features may include free spins, multipliers, wild symbols, and scatter symbols. It's important to note that these features are triggered randomly, adding to the element of pure luck in the game. Familiarize yourself with the rules of the game to know how to trigger these features and make the most of them. 3. Tips for Maximizing Your Chances of Winning While progressive slots are a game of pure luck, there are strategies you can employ to enhance your overall experience: Play Within Your Budget: Stick to your predetermined budget and avoid chasing losses. It's essential to gamble responsibly and not let emotions dictate your decisions. Bet Max When Necessary: Some progressive slots require a maximum bet to qualify for the jackpot. If you're playing such a slot and can afford it, consider betting the maximum amount to increase your chances of hitting the jackpot. Take Breaks: Slot gaming can be mesmerizing, but it's important to take regular breaks to stay refreshed and focused. Learn from Others: Read about the experiences of other players who have won progressive jackpots. Their stories may offer insights into strategies and tips for playing, although they ultimately acknowledge that luck played a significant role. Stay Informed: Keep an eye on the current jackpot amounts for different progressive slots. Some jackpots are known to reach staggering heights, making them particularly enticing and reminding us that luck can strike at any moment. Strategies for Progressive Slots While luck plays a significant role in progressive slots, having a strategy can improve your chances of winning. Here are some strategies to consider: 1. Patience and Persistence Progressive slots require patience. The jackpots can grow for an extended period before someone hits them. Be prepared for both winning and losing streaks, and never chase losses by betting more than you can afford. 2. Betting Strategy Consider adjusting your bet size based on your bankroll and the specific slot you're playing. Some players opt for smaller bets to prolong their playing time, while others prefer higher bets for a chance at bigger wins. Find a betting strategy that suits your goals and risk tolerance. 3. Playing with a Progressive Jackpot Strategy Some progressive slots have strategies that involve betting patterns or choosing specific games at certain times. While there's no foolproof strategy, researching the games and understanding their mechanics can help you make more informed decisions. Stories of Winners Certainly, here are the shortened versions of the three progressive slot winner stories: Excellence at Excalibur: A $39.7 Million Jackpot In 2002, at Excalibur in Las Vegas, one lucky player turned $100 into a life-changing $39.7 million while playing Megabucks. Their memorable Vegas vacation was transformed by a colossal win. Bonus Fact: They chose to receive their winnings in 25 annual installments. Keeping Cool in the Desert: A $35 Million Miracle Cynthia Jay Brennan, a cocktail waitress, hit the Megabucks jackpot at Desert Inn, Las Vegas, after just an hour of play. Her $35 million win was a true miracle. Tragically, she was later paralyzed in a car accident, but she found purpose in donating over 1,000 wheelchairs to those in need. Bonus Fact: Cynthia returned to work the day after her jackpot win. Retirement Riches at Palace Station: A $27.6 Million Surprise In Las Vegas, a 67-year-old retiree playing a dollar machine at Palace Station Casino hit a $27.6 million jackpot. She had no big plans but was thrilled by her unexpected fortune. Bonus Fact: She had initially intended to wager only $100 but decided to drop an additional $100. Her life-changing win came just $40 into that second hundred. For more incredible jackpot stories and insights, check out our full article on big wins. Progressive Slot Variations Progressive slots come in a wide variety of themes and styles, each offering its own unique gaming experience. Let's take a closer look at some of the popular progressive slot variations: 1. Classic Progressive Slots These slots feature traditional symbols like cherries, bars, and sevens. They evoke the nostalgia of old-school slot machines while offering the chance to win massive progressive jackpots. Classic progressives often have fewer paylines, creating a simpler and more straightforward gaming experience. 2. Video Progressive Slots Video progressive slots are known for their captivating visuals and immersive themes. They often incorporate storytelling elements and elaborate animations. These slots are designed to provide an engaging and visually stimulating gaming experience while still offering the chance to win big. 3. Themed Progressive Slots Themed progressive slots are based on popular movies, TV shows, books, and other cultural phenomena. These games allow players to immerse themselves in their favorite stories while pursuing the progressive jackpot. Themes range from ancient civilizations to sci-fi adventures, catering to a wide range of interests. 4. Multi-reell and Multi-Line Progressives These slots feature multiple reels and numerous paylines, offering more opportunities for winning combinations. While they may have higher minimum bets, they also provide a greater chance of hitting smaller wins while still aiming for the progressive jackpot. 5. Linked Progressive Slots Linked progressives are a network of slot machines, often found in physical casinos or online casino networks. These machines are connected, and a portion of every bet made on any of them contributes to the same progressive jackpot. Linked progressives can result in massive jackpots that grow rapidly as more players participate. Winning Big: Progressive Jackpot Payouts One of the most thrilling aspects of progressive slots is the potential for life-changing payouts. Here's a closer look at how progressive jackpots accumulate and some stories of players who hit the big time: How Progressive Jackpots Accumulate Progressive jackpots accumulate by taking a small portion of each player's bet and adding it to the jackpot pool. This continues until someone hits the jackpot. The mechanics of jackpot accumulation differ depending on the type of progressive slot: Standalone Progressives: In these machines, the jackpot is specific to that particular slot. The jackpot grows based on the bets placed on that machine only. Local Progressives: Multiple slot machines within the same casino or gaming establishment are linked to a shared jackpot. This increases the potential winnings while still being limited to a specific location. Wide Area Network (WAN) Progressives: These are the most lucrative progressive slots, as they are linked across various casinos, regions, or even countries. WAN progressives can offer staggering jackpots thanks to the vast number of players contributing. Responsible Gaming While the excitement of progressive slots is undeniable, it's essential to approach gambling responsibly. Responsible gaming ensures that your enjoyment remains within healthy boundaries and doesn't lead to financial or emotional issues. Here are some key points to consider: Recognizing Signs of Problem Gambling Problem gambling can have serious consequences. It's important to be aware of the signs and seek help if needed. Common signs of problem gambling include: Chasing Losses: Continuously betting in an attempt to recover previous losses. Neglecting Responsibilities: Prioritizing gambling over work, family, or other obligations. Borrowing Money to Gamble: Using loans or credit to fund gambling activities. Losing Interest in Other Activities: A loss of interest in hobbies or activities that were once enjoyable. Lying About Gambling: Hiding the extent of gambling activities from loved ones. Setting Limits and Self-Exclusion Options Most reputable casinos offer tools to help you gamble responsibly. You can set deposit limits, session time limits, and even exclude from gambling sites if you feel it's necessary. These features empower you to stay in control of your gambling activities. Conclusion In this comprehensive guide, we've explored the world of progressive slots, from understanding the basics and gameplay to strategies for success and responsible gaming. While progressive slots offer the chance for incredible wins, always remember that they are games of chance, and there are no guarantees. As you embark on your progressive slot adventures, approach them with excitement, but also with caution and responsibility. Whether you're dreaming of that life-changing jackpot or simply seeking a thrilling gaming experience, progressive slots have something to offer every player. May the next spin bring you luck and excitement as you chase the progressive jackpot of your dreams.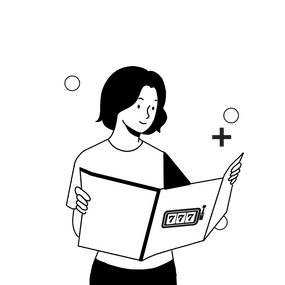 Venturing into the world of online slots for the first time? No worries! This guide is designed especially for beginners like you. In just a few minutes, you'll grasp the essentials to confidently dive into online slot gaming. From understanding the basics to optimizing your chances, we'll ensure your transition from novice to pro is smooth and enjoyable. Ready to spin the digital reels? Let's get started! Quick Start Guide for the Busy Player Pressed for time or just eager to get started? We've got you covered! Before we delve into the nitty-gritty, here's a concise, 2-minute read cheat sheet to kickstart your online slots journey. Think of this as your express ticket to the world of digital spinning reels. Dive in now for a quick grasp, and when you're ready for more depth, our comprehensive guide awaits. Choose a Reputable Casino: Always select a trusted online casino platform with good reviews and proper licenses. Sign Up & Create an Account: This usually requires basic details like name, email address, and setting a password. Select Your Preferred Slot Game: Browse through the casino's slot library and pick one that appeals to you. Look out for popular titles or themes you enjoy. Understand the Game's Rules: Every slot game can have unique symbols, paylines, and bonus features. A quick glance at the game's paytable will provide this information. Set Your Bet Amount: Use the game controls to decide how much you want to wager per spin. Spin & Play: Hit the 'Spin' button to set the reels in motion. Wins are usually highlighted, and any winnings are automatically added to your account balance. Withdraw or Play More: If you've accumulated wins, you can either withdraw your earnings or continue playing. And there you have it! You're now ready to take on the world of online slots. But if you're curious to learn more and become a slot savant, continue reading for a deeper dive into each aspect of online slot gaming. The Basics of Online Slots Online slot games, often simply referred to as slots, are digital versions of traditional slot machines you'd find in land-based casinos. They've evolved significantly with the advent of technology, and today, they offer a wide array of themes, designs, and features. If you're new to online slots, here are some foundational concepts to help you get started: Reels and Rows: Central to every slot game are the reels, which are vertical columns displaying various symbols. Traditionally, slot games had three reels, but modern slots often have five or more. Alongside the reels, rows represent the horizontal alignment of symbols. Together, reels and rows form the grid of a slot game. Symbols: Symbols are the vibrant images or icons you see spinning on the reels. They vary from game to game, often designed to fit the slot's specific theme. Examples include fruits, bells, numbers, or even characters from movies or stories. Some symbols hold special value: Wild Symbols: They can substitute for most other symbols, helping to create winning combinations. Scatter Symbols: Often trigger bonus features or free spins when you land a certain number of them. Paylines: These are predetermined lines on which a winning combination of symbols must appear to result in a payout. Early slot machines had just one payline, but today's slots can feature anywhere from 1 to over 1,000 paylines! Payouts and Paytables: Before diving into a slot game, it's essential to understand its paytable - a chart that explains the value of each symbol and the combinations that will result in a win. Payouts refer to the amount of money or credits you win when specific combinations land on the reels. Bet Amount and Coin Value: To play, you'll need to set your bet amount, which is often divided into levels and coin values. This determines the total stake you're placing on a spin. Return to Player (RTP): This is a percentage that indicates how much of the money wagered on a slot will be returned to players over time. For instance, a slot with an RTP of 96% means that, theoretically, for every $100 bet, $96 will be returned to players over an extended period. Random Number Generator (RNG): Online slots operate using RNGs, ensuring that every spin is random and fair. This means that each spin's outcome is independent of the previous one, making slots a game of pure chance. By grasping these foundational concepts, you're well on your way to understanding and enjoying online slots. The next step? Dive in, explore different games, and discover the thrill of the spin! Choosing the Right Online Casino Navigating the vast ocean of online casinos can be daunting. However, selecting the right platform is crucial for a secure and enjoyable online slots experience. Here are some key factors to consider when making your choice: Licensing and Regulation: Always ensure that the online casino operates under a legitimate and recognized license. Regulatory bodies like the UK Gambling Commission (UKGC), Malta Gaming Authority (MGA), and others set strict standards for fairness, security, and transparency. An accredited casino is a trustworthy casino. Game Variety: Look for casinos that offer a broad range of slot games from reputable software providers like Microgaming, NetEnt, Playtech, and others. This not only assures quality but also provides a diverse gaming experience to keep things fresh and exciting. User Experience and Design: A well-designed, intuitive interface can greatly enhance your gaming experience. The casino should be easy to navigate, with clear categorization of games, smooth gameplay, and fast loading times. Safety and Security: Ensure the casino uses the latest encryption technologies to safeguard your personal and financial data. SSL (Secure Socket Layer) encryption is a standard security measure adopted by leading casinos. Bonuses and Promotions: Many online casinos lure players with attractive bonuses like welcome bonuses, free spins, and deposit matches. While these can offer added value, always read the terms and conditions. Understand the wagering requirements, which dictate how many times you must play through the bonus amount before withdrawing any winnings. Payment Options: A good online casino should provide multiple payment methods, from traditional bank transfers and credit cards to e-wallets like PayPal, Skrill, and Neteller. Withdrawal times and any associated fees should also be transparent. Customer Support: Responsive customer support is a hallmark of a reputable casino. Look for platforms that offer 24/7 assistance through various channels, be it live chat, email, or phone. Player Reviews and Reputation: Sometimes, the best insights come from fellow players. Browse online forums, read reviews, and gather feedback from the player community to gauge a casino's reputation. Mobile Compatibility: In today's digital age, being able to play on the go is a must. Ensure the casino is mobile-friendly or offers a robust mobile app for your smartphone and tablet. By prioritizing these factors and doing a bit of research, you can find the perfect online casino that aligns with your needs, ensuring a safe and enjoyable journey in the world of online slots. Playing Slots Online for Real Money vs. Free Play Online slots offer two primary modes of play: real money and free play. Each mode has its unique advantages, catering to different player needs and preferences. Let's delve deeper into these two options to help you decide which one aligns with your gaming goals. Real Money Play: Pros: Potential Rewards: Playing with real money means you have the chance to win actual cash prizes, including hefty jackpots. Access to Bonuses: Many online casinos offer bonuses, promotions, and loyalty programs that can boost your bankroll and playing time. Full Experience: Engaging in real money play allows you to experience the full range of emotions and thrill that comes with staking actual money. Cons: Financial Risk: As with all forms of gambling, there's a risk of losing money. It's essential to play responsibly and set a budget. Requirement of Account Setup: You'll need to register, verify your identity, and make a deposit before you can start. Free Play: Pros: Risk-Free: Playing slots for free means there's no financial commitment, making it an excellent way for beginners to learn the ropes without any pressure. Testing and Exploration: Free play allows you to test various slot games, explore their features, and get a feel for different software providers. Entertainment Value: If you're seeking pure entertainment without the stress of winning or losing money, free slots are the perfect solution. Cons: No Real Prizes: While you can rack up virtual wins, they won't translate to actual money. Limited Access: Some premium slot games or features might be locked behind a paywall and unavailable in free-play mode. Decision Time: Which mode is right for you? If you're new to online slots, starting with free play can be a wise decision. It offers a zero-risk environment to get familiar with game mechanics and features. However, if you're seeking the adrenaline rush of chasing real rewards and are aware of the associated risks, diving into real money play can be incredibly exciting. Remember, no matter your choice, the primary goal is to have fun. Ensure you play responsibly and within your means, and the world of online slots will provide countless hours of entertainment. Maximizing Your Wins: Strategies to Play Slots Online and Win Online slots are predominantly games of chance, meaning luck plays the most significant part. However, employing smart strategies can increase your odds of winning or at least maximize your gaming experience. Here are some tips to keep in mind: 1. Understand the Slot RTP (Return to Player): RTP indicates the percentage of stakes a slot machine returns to players over a long period. Slots with higher RTPs offer better odds. For instance, a slot with an RTP of 96% means it returns $96 for every $100 wagered. 2. Check the Slot's Volatility/Variance: Low volatility slots tend to give out smaller wins frequently. High volatility slots might not pay as often, but when they do, it's typically a bigger amount. 3. Use Bonuses Wisely: Many online casinos offer bonuses, such as free spins or matched deposits. Ensure you read the wagering requirements. Sometimes it's better to decline a bonus to cash out when you wish. 4. Manage Your Bankroll: Set a budget and stick to it. It's easy to get caught up in the excitement. Decide on a loss limit or win goal, and quit when you reach it. 5. Study the Paytable: Before playing a slot, familiarize yourself with its paytable. It tells you the worth of each symbol and which ones are the most lucrative. 6. Play in Demo Mode First: Trying the game in demo or free mode helps you understand its features without risking real money. 7. Stay Updated with Slot Reviews: Keeping an eye on reviews helps you know which slots are hot and which ones are not. 8. Avoid the Gambler's Fallacy: Just because a slot hasn't paid out in a while doesn't mean it's "due" for a win. 9. Take Regular Breaks: Continuous play can cloud your judgment. Take breaks to reset and come back with a clear mind. Remember, while these strategies can enhance your gameplay, there's no surefire way to guarantee a win. It's important always to play responsibly and treat slots as a source of entertainment. Special Features in Online Slots Distinguishing one slot from another is often about the special features they offer. These features not only enhance gameplay but can also increase your chances of taking home a hefty prize. Let's delve into some of the most common special features you'll encounter: 1. Wild Symbols: Acts as a substitute for other symbols to create a winning combination. There are different types of wilds like expanding wilds, sticky wilds, and shifting wilds. 2. Scatter Symbols: These symbols can provide payouts wherever they appear on the reels, not just on paylines. Often, they also trigger bonus features or free spins. 3. Free Spins: As the name suggests, it's an opportunity to spin the reels without deducting any amount from your stake. Typically activated by scatter symbols. 4. Bonus Games: Mini-games within the slot, offering a break from the main game. Can be very lucrative and are typically themed around the main slot. 5. Multipliers: These will multiply your winnings by a specified number. For example, a 3x multiplier will triple any winnings from that spin. 6. Progressive Jackpots: These are jackpots that grow over time until someone wins. Each bet made contributes a small portion to the jackpot. 7. Gamble Feature: Allows you to potentially double or even quadruple your win by guessing, for example, the color or suit of a card. It's a risky feature – while you can multiply your win, you can also lose it all. 8. Cascading Reels: Symbols that form winning combinations disappear, and new ones fall into their places, offering the potential for multiple consecutive wins. 9. Mega Symbols: Larger symbols that cover more than one position on the reels, increase the chances of forming a winning combo. 10. Expanding Reels: The slot grid can expand, adding more rows or reels, thus offering more ways to win. Familiarizing yourself with these features can make playing online slots even more exciting. It's also beneficial when choosing which games to play – if you're after big wins, for instance, you might want to choose slots with a good selection of bonus features or progressive jackpots. Conclusion Playing online slots can be an exhilarating experience, blending both fun and the potential for financial rewards. By understanding the basics of slot denominations, choosing the right online casino, and employing effective strategies, you increase your chances of having a more enjoyable and potentially profitable gaming session. Always remember to play responsibly and know your limits. Online slots should be about entertainment first and foremost. Good luck and happy spinning!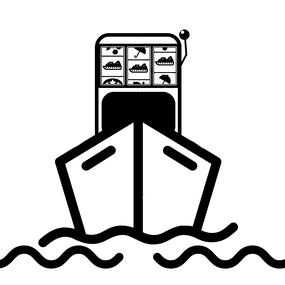 Imagine this: The sun dips below the horizon, casting a golden hue on the vast ocean. As you lounge on the deck of a luxurious cruise ship, the distant sound of reels spinning and jackpots ringing calls out to you. This isn't just any casino experience; this is casino gaming on the high seas. In the heart of cruise ships worldwide, slot machines have become an integral part of the nautical adventure, offering passengers a unique blend of excitement and leisure. In this article, we'll delve deep into the world of cruise ship slots, uncovering their history, appeal, and the tips you need to know before you play. Whether you're a seasoned gamer or a curious traveler, get ready for a voyage of discovery and chance. Historical Context: Setting Sail with Slot Machines Long before state-of-the-art video slots graced the cruise casinos, the charm of traditional slot machines echoed in the ship's corridors. The early days of cruise voyages were as much about the journey as the destination. As cruise lines sought to elevate onboard entertainment, casinos began making their mark. By the mid-20th century, amidst the backdrop of glamorous ballroom dances and sophisticated dinner parties, the mechanical chimes of slot machines added a new rhythm to the cruising experience. Over the decades, as technology advanced and passenger expectations evolved, these machines transformed from simple mechanical contraptions to the dazzling digital displays we see today. This evolution not only enhanced the gaming experience but also cemented slots as an indispensable part of cruise entertainment. Did You Know? The first slot machines on cruise ships were purely mechanical and operated without any electricity. casinos originally served as an exclusive entertainment option for elite passengers before becoming popular among the masses. Types of Slot Machines on Cruise Ships: From Classic Reels to Digital Delights Step into a cruise ship casino, and you'll be greeted by a kaleidoscope of lights, sounds, and themes - each slot machine offering its own unique adventure. The traditionalists might gravitate towards the classic three-reel slots, reminiscent of the original machines from decades past. These offer straightforward gameplay, where lining up three matching symbols can land a win. But for those seeking a more modern thrill, video slots have taken the stage. With intricate graphics, engaging storylines, and multiple paylines, they promise a more immersive experience. Progressive jackpots are the star attractions for dreamers, where every spin holds the potential of a life-changing win. And let's not forget the themed slot machines. Whether it's an underwater odyssey, a pirate's quest, or a journey through ancient civilizations, these slots perfectly complement the spirit of a sea voyage, enhancing the overall cruise experience. Quick Facts: Classic three-reel slots offer a nostalgic trip down memory lane. Video slots often come equipped with bonus rounds and interactive features. Progressive jackpots pool bets from multiple machines, leading to mega prizes. Themed machines are crafted to resonate with the cruise's destinations and adventures. Advantages of Playing Slot Machines on Cruise Ships: Spin the Reels, Sail the Seas There's something undeniably enchanting about playing slots while surrounded by the vastness of the ocean. Beyond the unique ambiance, there are tangible benefits to choosing cruise ship slots over their land-based counterparts. Firstly, the setting is unparalleled. The gentle sway of the ship, combined with panoramic ocean views, provides a serene backdrop to the exhilarating spins. Many cruise lines up the ante with special casino promotions, from free spins to exclusive tournaments, giving players added value for their bets. Moreover, integrating your gaming with your travel means you can enjoy two pleasures simultaneously. While waiting for your next port of call, why not try your luck at a jackpot? The thrill of a potential win can make the journey as exciting as the destination. Additionally, some cruise lines offer integrated rewards programs. This means your gameplay could earn you onboard perks like spa treatments, specialty dining, or even cabin upgrades. So, as you chase those wins, you're also enhancing your overall cruise experience. Spotlight: Cruise casinos often host tournaments with attractive prizes. Integrated reward systems can lead to enhanced onboard luxuries. The mesmerizing sea ambiance makes for a memorable gaming experience. Navigating the Waters: How Slot Machines on Cruise Ships Differ from Land-Based Casinos How Slot Machines on Cruise Ships Differ from Land-Based Casinos While the shimmering lights and ringing bells might seem familiar, there are nuances that distinguish cruise ship slot machines from those ashore. One of the most pronounced differences is in the realm of regulations. Since cruise ships often operate in international waters, they aren't bound by the gaming regulations of any specific country. This can influence payout rates and game structures. It's a common myth that cruise ship slots have tighter payouts. However, this isn't universally true. Just like any casino, cruise ships aim to strike a balance to ensure both player satisfaction and business profitability. Another notable distinction is the scale. While mega-resorts in places like Las Vegas or Macau boast sprawling casino floors with thousands of slot machines, cruise ship casinos are inherently more compact. This smaller scale often means a curated selection of games, ensuring a diverse range tailored to a wide spectrum of preferences. Lastly, the immersive experience of cruise ship gaming can't be understated. Beyond just playing a game, you're part of a broader adventure – one that's set against the backdrop of ever-changing horizons and starlit ocean nights. Insider's Tip: Always check the game's payout table onboard; it might differ from what you're used to. Embrace the exclusivity of a curated game selection on cruises. Remember, the thrill is as much in the journey as it is in the potential jackpot. Future Horizons: Innovations and Trends in Cruise Ship Slot Gaming As with all realms of entertainment, slot machines on cruise ships are not immune to the winds of change. With technological advancements, we're poised to see exciting innovations that could redefine nautical gaming. Virtual Reality (VR) is one frontier that holds immense promise. Imagine donning a VR headset and diving into a slot game that's not just on a screen but all around you. This immersive experience could make the high seas even more thrilling. Interactive slots are another trend on the rise. These aren't just about spinning reels; they engage players in narratives, challenges, and mini-games, offering a more comprehensive entertainment package. Sustainability is also becoming a key theme. Future slot machines might be more energy-efficient or use sustainable materials, aligning with the broader cruise industry's green initiatives. Moreover, the integration of gaming with other onboard experiences is a space to watch. Winning a jackpot might soon not just give monetary rewards but exclusive experiences onboard, like private dinners, excursions, or entertainment access. As we sail into the future, one thing's certain: the world of cruise ship slot gaming will continue to evolve, promising new adventures and unforgettable memories. What's Next: Dive into 3D gaming worlds with VR-enhanced slots. More than just games, interactive slots offer narratives and challenges. Eco-friendly slot machines align with the green wave in cruising. Unique onboard rewards add an extra layer of excitement to jackpots. Tips for Playing Slots on Cruise Ships Embarking on a cruise journey with dreams of hitting the jackpot? Slot machines on cruise ships can offer an exhilarating experience, but a few strategies can maximize your enjoyment and potential returns. Set a Budget: Before you even start playing, decide on a gambling budget. This ensures you won't spend more than you're comfortable with and can enjoy the game without financial stress. Start Slow: Especially if you're new to slots, start with lower denomination machines to get a feel for the game. As you become more comfortable, you can venture into higher stakes. Study the Machine: Each slot machine can have its unique set of rules, symbols, and payout structures. Take a few moments to familiarize yourself with the specific game before diving in. Take Breaks: Playing continuously can be mesmerizing, but it's beneficial to take breaks. This can help you refresh, evaluate your strategy, and come back with a clear mind. Loyalty Programs: Many cruise lines offer loyalty or rewards programs for frequent players. Joining these can offer benefits like free plays, complimentary drinks, or even room upgrades. Know When to Walk Away: If you've been on a losing streak or even if you've had a significant win, it might be a good idea to take a step back. Remember, it's about enjoyment as much as it is about winning. Engage in Other Activities: Cruise ships are filled with various entertainment options. Don't get so engrossed in slots that you miss out on other fantastic experiences onboard. Arming yourself with these tips ensures that your slot gaming on the cruise remains a delightful component of your voyage, offering both excitement and moments of relaxation. Sailing Beyond the Casino Floor: Other Entertainment Aboard While slot machines undeniably hold a magnetic charm in cruise ship casinos, the broader vessel offers an array of entertainment options that can complement your gaming sessions. After a thrilling time at the slots, you might want to catch a live show, with performances ranging from Broadway-style musicals to breathtaking acrobatics. For those seeking relaxation, the ship's spa facilities provide an oasis of calm, offering massages, facials, and wellness treatments. If culinary delights tickle your fancy, onboard dining options span the globe, from Italian trattorias to Japanese sushi bars. Adventurous souls can engage in shipboard activities, like rock climbing, zip-lining, or even surfing simulations. As the sun dips below the horizon, the ship's nightclubs and lounges come alive, offering dancing, cocktails, and the chance to socialize with fellow travelers. Your cruise experience extends far beyond the slot machine's glowing screens. By weaving in these diverse onboard attractions, you can craft a voyage that's as varied and vibrant as the destinations you're sailing toward. All Aboard Adventures: Dazzling live shows and performances for art enthusiasts. Spa sessions to rejuvenate after intense gaming. Gourmet dining experiences that traverse culinary landscapes. Thrilling shipboard activities and nightlife to elevate your cruise experience. Safe and Responsible Gaming at Sea: Setting Your Course Right Even amidst the enthralling backdrop of the open ocean and the unique ambiance of cruise ship casinos, responsible gaming remains paramount. Ensuring you enjoy your time at the slots while keeping a balanced approach is essential. One practical step is to predetermine a gaming budget. This allows you to set clear boundaries on both the time spent and money wagered, ensuring you don't get carried away by the waves of excitement. Understanding the odds is also crucial. Slot machines are games of chance, and while big wins can be exhilarating, they're not guaranteed. By acknowledging this, you can enjoy the thrill of the game without undue expectations. Cruise lines often have resources and staff trained to assist those who might feel they're losing control of their gambling habits. If at any point you or someone you know seems to be struggling, don't hesitate to seek assistance or take advantage of onboard programs designed to promote responsible gaming. Above all, the goal is enjoyment. Your cruise is an opportunity for relaxation, adventure, and creating memorable experiences. By approaching slot gaming with mindfulness and responsibility, you ensure it remains a positive facet of your journey. Steering Clear: Set a clear budget for both time and funds. Understand that slots are games of chance; enjoy without unrealistic expectations. Utilize onboard resources if you need guidance or assistance. Making the Most of Port Stops and Casino Hours The rhythm of a cruise ship is unique, oscillating between days at sea and port stops. While at sea, the casino is usually in full swing, but it's essential to be aware that casinos often close when the ship is docked. This allows passengers the opportunity to explore the port's attractions without the distraction of the casino. Making the most of your port stops can be just as rewarding as your time spent gaming. Each destination offers a glimpse into a new culture, landscape, and set of experiences. Whether it's wandering through bustling local markets, lounging on pristine beaches, or taking part in excursions like snorkeling or historical tours, these moments can be the highlights of your cruise. However, when back on board and the ship sails into international waters, the casino comes alive again. By aligning your gaming sessions with the ship's itinerary, you can strike a harmonious balance between exploring new places and indulging in casino entertainment. Charting Your Day: Remember, casinos often close during port stops. Immerse yourself in the unique experiences each port offers. Align your gaming sessions with the ship's sailing schedule for a balanced cruise experience. The Future of Slot Gaming on Cruise Ships The maritime casino landscape is ever-evolving, with cruise lines striving to offer passengers the most cutting-edge and immersive slot gaming experiences. As technology and passenger preferences evolve, we can anticipate several transformative trends in the world of cruise ship slot machines. Digital Transformation: Cashless play is on the horizon, with many cruise lines exploring digital payment methods and credit systems for slot machines. This not only promises increased security but also streamlines the gaming process, eliminating the need for physical tokens or bills. Interactive Gaming: Augmented Reality (AR) and Virtual Reality (VR) are poised to revolutionize the slot machine experience. Imagine playing a slot game where you're virtually transported to ancient Egypt or a mythical land, with the game unfolding around you in immersive 3D. Green Gaming: As the world becomes more eco-conscious, there's a push towards more sustainable gaming. This could translate to energy-efficient slot machines, eco-friendly casino décor, and initiatives that give back to environmental causes. Personalized Experiences: With advancements in artificial intelligence and data analytics, future slot machines might offer more tailored gaming experiences. Machines could adjust game themes, difficulty levels, or bonus rounds based on individual player preferences and histories. Connectivity and Integration: Expect to see more interconnected slot games, where players can participate in ship-wide tournaments or challenges, enhancing the sense of community and competition. Educative Gaming: Future slot games might not just be about luck and payouts. They could also incorporate elements that educate players about different cultures, historical events, or even ecological concepts, blending entertainment with learning. Navigating into the future, cruise ship slot gaming is set to be a blend of technological advancements, sustainability, personalization, and enhanced interactivity. As the tides of innovation surge, players can look forward to an ocean of exciting and novel experiences awaiting them onboard. Conclusion As we set our sights on the horizon, the transformative journey of slot machines on cruise ships is a testament to the marriage of innovation and entertainment. From the humble mechanical beginnings of yesteryears to the digital, immersive experiences of today and the promise of tomorrow, cruise ship slots have become a pivotal facet of the maritime leisure experience. Cruise lines continually strive to enhance this gaming voyage, ensuring passengers not only chase the dream of a jackpot but also relish every spin's momentary thrill. With technology's ever-advancing tide and the industry's commitment to pushing boundaries, the future is rife with possibilities, promising even more exhilarating adventures on the high seas. Whether you're a seasoned gamer or a casual enthusiast, the world of cruise ship slot machines beckons with its allure of chance, camaraderie, and ceaseless excitement. As we dock this exploration, one thing remains certain: the journey of slot gaming on cruise ships is an ever-evolving saga, and the best chapters may still be unwritten.