For those new to slot machines, sitting down to play can be a bit confusing. There are numerous symbols and buttons on the game and someone who has never played might not be able to understand everything. It all may be a bit of a shock to the system for new players.
While the machine itself can tabulate winning spins, understanding the machine also makes for a more rewarding experience at a casino or when playing online. Learning a few of the essential concepts will help players as they spin those reels.
How to Read a Slot Machine: Step-by-Step Guide
Locate the Paytable: Before playing any slot machine, identify and read the paytable, usually accessible on the machine's screen or a designated button. This table tells you the value of each combination and any special bonuses.

Understand the Symbols: Standard Symbols: These are the basic symbols that spin on the reels. Getting a specific number in a row determines if you win. Wild Symbols: They can replace any other symbol to create a winning combination. Scatter Symbols: Typically unlock bonus features or free spins. They usually pay when two or more appear anywhere on the reels. Bonus Symbols: Trigger special bonus rounds where players can win extra prizes. You can find the full article on slot symbols here.

Check the Number of Paylines: Traditional slot machines have a single payline, but modern video slots can have anywhere from 10 to 100s paylines. Some machines allow you to choose the number of paylines to bet on, while others have fixed paylines.

Identify Special Features: Many modern slot machines have bonus rounds, free spins, or progressive jackpots. Familiarize yourself with how to activate and play these features.

Determine the Bet Amount: Decide how much you want to bet per line and how many lines you want to play. Remember: the total bet is the bet per line multiplied by the number of lines played.

Look at the RTP (Return to Player): This is a percentage that estimates how much of the betted money the machine will pay back over time. A higher RTP means the game will return more money to players over a long period, but it doesn't guarantee short-term outcomes.

Spin the Reels: After understanding the machine, press the 'Spin' button to play.

Observe Outcome: Once the reels stop, the machine will automatically determine any wins based on the symbols that are displayed and the paytable. Any winnings are immediately added to your credit. Decide on Cash Out or Continue: If you've won money and want to cash out, follow the machine's prompts to get your winnings. Otherwise, continue playing.

Practice Responsible Gaming: Set a budget, know when to stop, and be aware that slot machines are games of chance, with outcomes determined by random number generators.

1 – Reels
Someone new to a slot will notice a set of three to five lines in the center of the screen featuring various symbols. These "reels" spin vertically on every spin. These are what a player is watching to see if they are a winner on the spin. These reels derive from original slot machines that featured mechanical working reels that determined the winner.
Nowadays, a random number generator (RNG) determines a winner, and most reels are now of the digital graphic variety. These are visual representations of what the RNG determines for that spin.
Slot manufacturers have improved this experience greatly since the days of actual mechanical reels. Players will see unique graphics, video, and other features on these reels in modern games. Slot machine reels are a key feature on a slot and display the result of each spin.
The popular slot Zeus II, available on Jackpot Party, serves as an example throughout this article. Here's a look at the 4x5 reels on this game.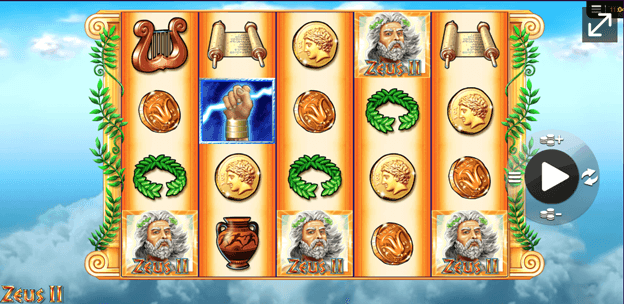 Zeus 2 reels
2 – Spin Button
Now that you know what the reels are, it may be time to give those reels a spin. The spin button gets the game underway, initiating the reels to spin after you've selected the number of credits you'd like to wager.
Once that spin button has been pressed the reels spin and eventually come to a stop. Players will then be able to see if they won any credits on that particular spin. Once credits have been paid out to a player's account, he or she can then hit the spin button again to initiate another spin of the reels.
Online, players may find a spin button that is located on the game itself. For example, in this version of Zeus II, the button looks like a triangular "play" symbol typically associated with playing music online. Simply click this button to see the reels spin. Players on Jackpot Party will find a similar spin button on most games.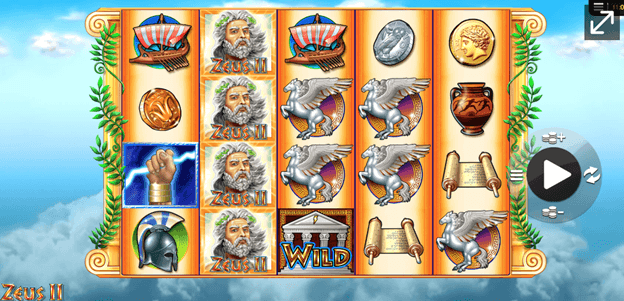 Zeus 2 spin button
3 – Bet Button
When taking a seat at a slot game, you'll first insert some cash or a credit voucher. Online players can also select the amount they want to use on that particular spin of the reels.
If you are playing a penny machine and insert a $20 bill, you'll then have 2,000 credits to play and this should show up on the screen. That amount will increase and decrease depending on your winning or losing spins.
Players can determine how many credits they want to wager per line on each spin. More credits wagered per spin means you'll receive more on each winning spin. Players can easily adjust the number of credits bet by tapping this bet button.
At Jackpot Party, simply click the chips/coins icons above and below the play button on the screen to adjust your wager per spin. Click the top icon to increase and the bottom icon to decrease. An image will show up noting the total bet above the buttons as seen in this image from Zeus II. You can also click on the menu button to the left of the play symbol to adjust your bet as well.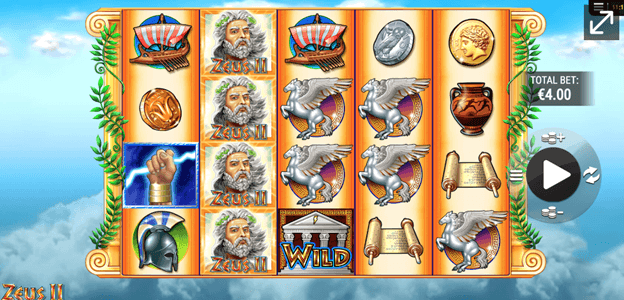 zeus 2 bet button
4 – Pay Lines
Pay lines are what visually show the ways that a player wins based on the reels on the screen. On classic slots, there was usually a single line across the center of the reels and paid out when certain symbols showed up. Eventually, that evolved into multiple paylines.
With the advent of video slots, slot manufacturers were able to get even more creative. Most games now offer numerous paylines. That can include horizontal paylines as well as lines that seem to zigzag across the reels.
Different slot games offer different ways to win. Some symbols may allow lines to link across the reels in seemingly random patterns. Players also have the chance to see multiple payouts with various paylines connecting across the reels. Multi-line payouts mean more winnings are possible per spin.
Here are a few of Jackpot Party's most famous Vegas slots:


Click here to discover all of our free slots for your enjoyment.
However, don't worry that you won't be able to recognize which symbols align on each spin. Games now determine the winners via the RNG and display which symbols are connected to the screen after each spin. This makes it easy to see which spins are winners. Players will easily see winning lines and credits in their bank before spinning again.
This also allows players to start recognizing which symbols pay off at higher rates than others. Some symbols, such as Wilds and Scatters, can offer players not only winning pay lines but also higher payouts than they might earn otherwise.
Modern slots, whether in a live casino, online, or on social media platforms, feature plenty of creativity and numerous ways to win. Players can also increase the number of credits paid per line to win even more.
In the Zeus II game, here's a look at how the game shows how a person has won by highlighting the lines and icons that align to make the spin pay off. The game will also highlight multiple wins as well.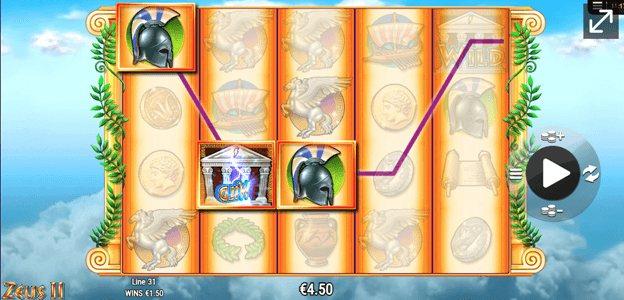 zeus 2 paylines
5 – Pay Table
For more information about how a slot machine pays out, players may want to check out a slot's pay table. This can be found on the exterior of the game itself sometimes, but can often be viewed on the screen of a video slot as well.
The pay table shows the player the number of paylines on a certain machine as well as prizes and payouts. Players will find the betting requirements for the game as well as the symbol combinations on the reels and how they pay out. Some symbols pay more and players will be able to observe these.
The top row on the pay table will offer players some insight into the largest jackpot payouts. The symbol also shows how much each combination pays depending on the number of credits played. Most machines allow players to pay from three to five credits per line.
The paytable shows how each jackpot pays out for these varying bets. Players at the max bet will often find some of the higher payouts that are multiple times better than the other payouts on the same line at smaller levels. A pay table is key to learning more about the possible wins and payouts on each game.
These pay tables are also available for online games at Jackpot Party. For Zeus II, click the menu button (three horizontal lines) to the left of the play icon. This brings up a small box in the middle of the screen. There are five more icons at the top allowing players to adjust bets, volume, and more. Click on the "i" tab at the top to see more information on the game and scroll down to the pay table, which looks like this.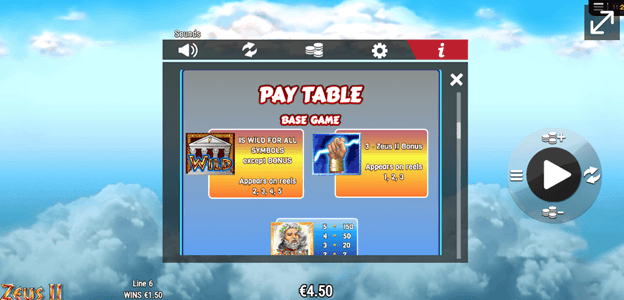 Zeus 2 pay table
6 – Scatters
Slot developers have gotten creative through the years, moving beyond just allowing players to win with certain symbols that show up on screen. Some symbols can be used in multiple combinations to produce wins and even trigger bonus games.
The scatter symbol is just one of those. These act as triggers and their exact use depends on the game a player is playing. Seeing some of these may bring about different types of bonus features including free spins and other bonus rounds (more on those below) as well as other interesting gameplay aspects.
These are typically some of the highest-paying symbols and players traditionally need to see multiple symbols appear on the reels to reap some real rewards from them.
In Zeus II, the lightning bolt serves as the scatter symbol. When lining up at least three of these scatters, players will earn a free spins bonus. In this game, players can earn up to 150 free spins when five scatter symbols show up. Here's a look at one of the symbols, located in the upper right. The symbol is pictured in the informational box as part of the pay table.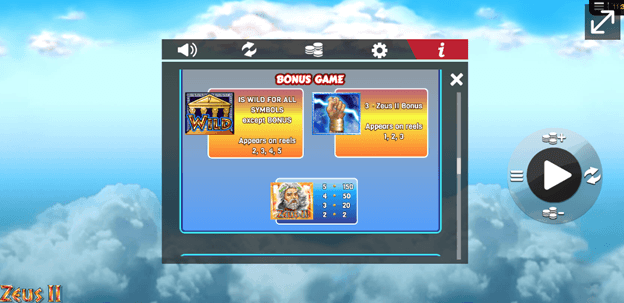 zeus 2 scatter symbols
7 – Wild Symbols
Slot manufacturers work to make their games fun and exciting. Adding more ways to win helps accomplish this and wild symbols go a long way in accomplishing this. These symbols are similar to the Joker in a wild-card poker game, they can serve to substitute for other symbols to make a winning combination.
A player finding a few symbols on the reels will find that a wild often helps reward them with some winnings. In Zeus II, the Temple Wild symbol accomplishes this task. These can replace all other symbols, except for the lightning bolt, to form winning combinations. Here's a look at the Temple Wild in Zeus II, located in the upper left via the information box.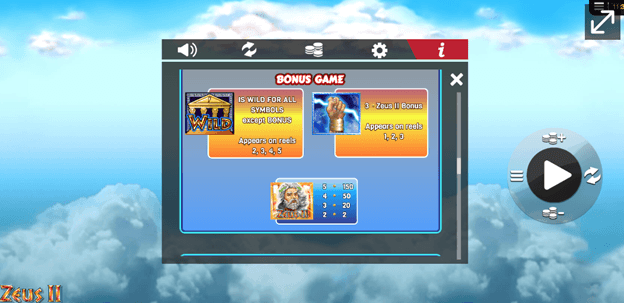 Zeus 2 Wild Symbols
8 – Bonus Rounds/Free Spins
To make games more exciting, slot manufacturers build in differing features that can be triggered through various means. This may range from making a pick for a prize to free spins, respins, and more. Some games even feature completely different screen video clips and other exciting features as part of a bonus game. These offer players a chance to win even more in the game.
Winning free spins is a common bonus game. This means players earn several spins that don't take away from a player's credits. Free spins offer players even more chances to win and those awarded can range from just a few to 100 or more.
In some games, the most lucrative symbols appear more often during the free spins section. Additionally, players can often earn even more free spins during the free spins bonus. This means the round gets extended and gives you even more opportunities to win.
In Zeus II, players have a chance at a free spins bonus. This happens when you find three lightning bolt symbols on reels one, two, and three. Players will earn 10 free spins for accomplishing this and can earn even more with scatter symbols and wilds showing up as well.
Zeus II also includes another bonus, the Hot Hot Super Respin. Respins occur on this game during the free spins bonus. Respins occur when certain bonus symbols appear, locking them in place and spinning the other reels again for a shot at more winnings.
The Hot Hot Super Respin occurs when a Zeus symbol appears on reel one, triggering a few respins to the free spins bonus. The Zeus symbol locks in place while the other reels continue spinning, with some wild symbols hopefully showing up to add even more winnings to your bank. Here's a look at the free spins feature on Zeus II.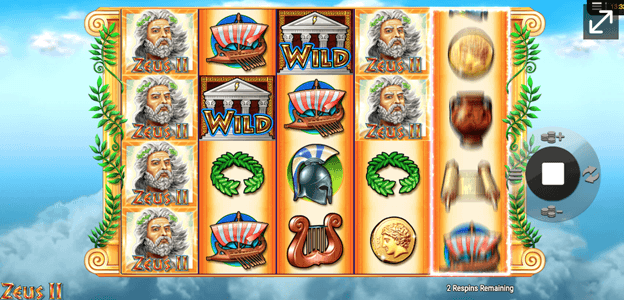 Zeus 2 bonus round
9 – Conclusion
Slot games, whether playing in a casino or online, may be intimidating at first but learning just a few of the key features will help a player understand what they are doing. Here's a quick review of some of the key concepts to remember. For a full list of slots terms, please visit our slots terms page.
10 – Frequently Asked Questions
What are reels?
Reels are the vertical spinning sections of a slot machine screen that feature various symbols. They determine the winning combinations for each spin.

What is the spin button?
The spin button is an icon or button that initiates the spin of the reels after the player has selected the number of credits they want to wager.

What is the bet button?
The bet button is a button or icon that allows the player to determine their bet per spin. They can adjust the number of credits they want to wager per line.

What are pay lines?
Pay lines are the lines on the reels that determine the winners depending on which symbols appear. They don't necessarily have to line up straight across but can run in random directions depending on the game and the symbols that appear.

What is the pay table?
The pay table is a table that shows what prizes a player can win based on the symbols that appear on the reels. It also shows the highest jackpot in the game that a player can win.

What are scatters?
Scatters are distinct symbols on a slot machine that can trigger bonus features when they appear on the reels. They are usually the highest-paying symbols on a slot.

What are wild symbols?
Wild symbols are symbols on a slot machine that can be substituted as other symbols in the game to create winning combinations.

What are bonus rounds and free spins?
Bonus rounds and free spins are extra games that a player can win, giving them extra opportunities to win credits without affecting their balance. Bonus rounds can offer various features such as pick-for-a-prize, respins, and more. Free spins give players more chances to win with every spin.