Players new to dropping a few bucks into a slot machine or playing online may not be accustomed to some of the concepts of how to play and how the game functions. There may seem to be so much going on a certain game that some of the key aspects of playing may be a bit overwhelming.
Knowing what stakes are available, how they are wagered on the machine, and how paylines work on a game may help clear up some of the confusion when it comes to wagering some cash on a slot. Today's games often offer numerous betting limits and ways to win, so having a handle on this element can make the gaming experience more fun and alert you to that next big win.
Keep reading to learn all about slot machine stakes and how a game's paylines work.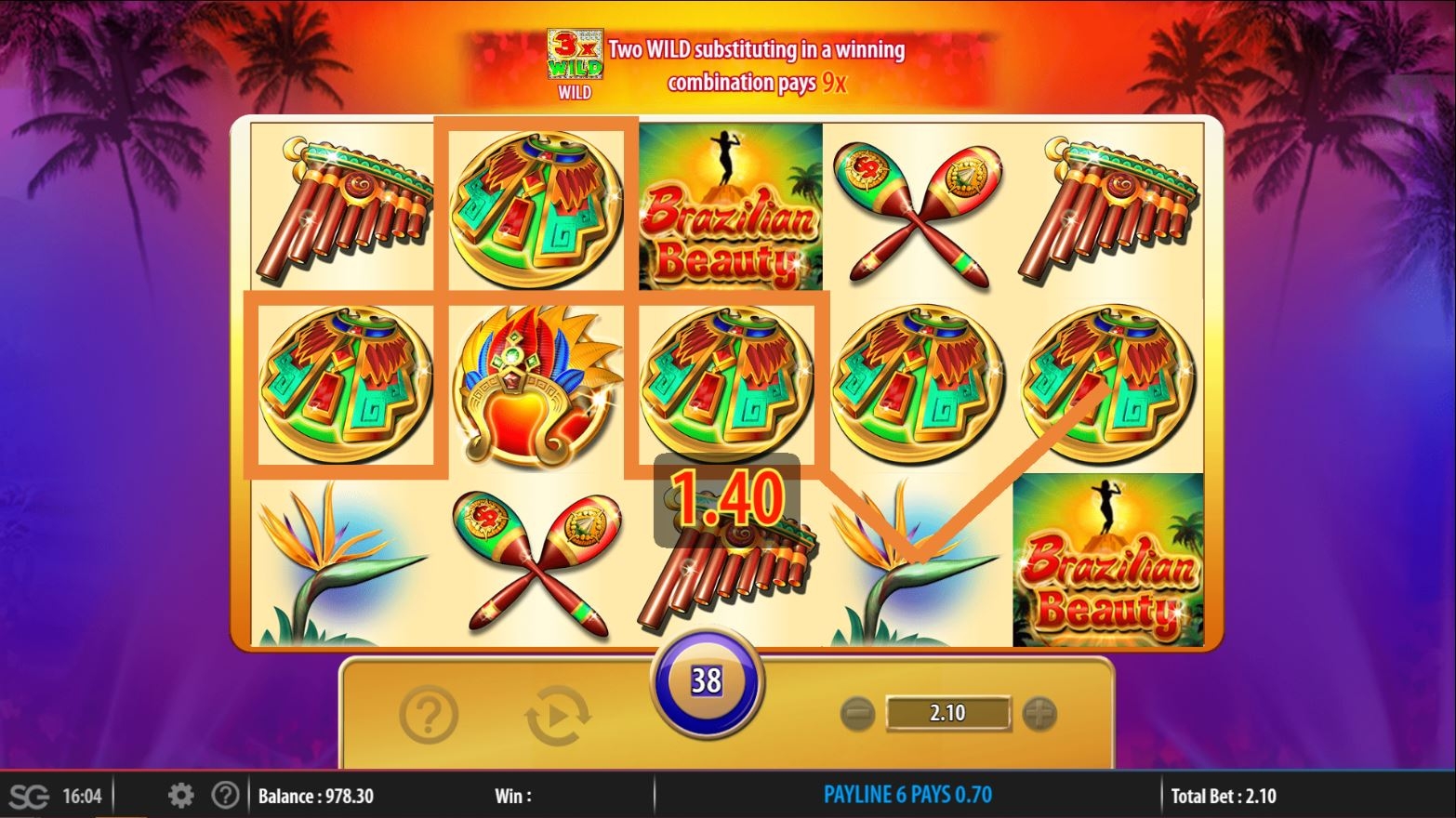 brazlian beauity paylines
1 – A look at slot machine stakes
The great thing to know about today's modern slots is that there are numerous options. Not just when it comes to game types and themes, but also when it comes to the amount a player can wager. That total bet or the amount wagered are known as the "betting limits" or "stakes."
Many games feature a minimum limit which can start at a single cent per payline (more on what that means below) and can go all the way up to as much as $5 per spin or more. The amount wagered is up to you and players should make sure they stay within their bankrolls so that their money can last.
Some machines feature higher limits, with bigger limits often paying out a larger percentage of all money wagered back to players, known as RTP (return to player). But there are also much lower limits available either at a live or online casino. Free-to-play social gaming options also feature numerous limits, but this obviously makes use of virtual currency. Here are some quick definitions for some of these terms.
2 – How do paylines work?
In some of the first slots, a line would be found across the front of the reels. If those bells or cherries lined up perfectly, the machine would pay out players in coins for a win. Certain symbols could pay more than others and those original machines made use of real mechanicals reels to determine a winning spin. To navigate modern slots and improve your odds, consider exploring our Slots Tip Guide for deeper insights.
Today's machines use sophisticated computer technology to create random spins. The RNG (random number generator) actually determines the result as soon as a player hits the "spin" button. But for most players, those paylines represent whether they win or lose.
As slots advanced, manufacturers moved to more than one payline. Mechanical reels advanced to three lines and beyond. Modern video slots have ramped up the concept of multiple paylines even more. While older slots may have had only a few horizontal paylines, today's slots feature paylines that can go numerous directions across the reels.
Wild symbols, which can be substituted for other symbols on the reels, also make it possible to win in more ways across the paylines. These make it possible to see some wins when a certain symbol may not line up correctly but a wild symbol can serve to complete a winning spin.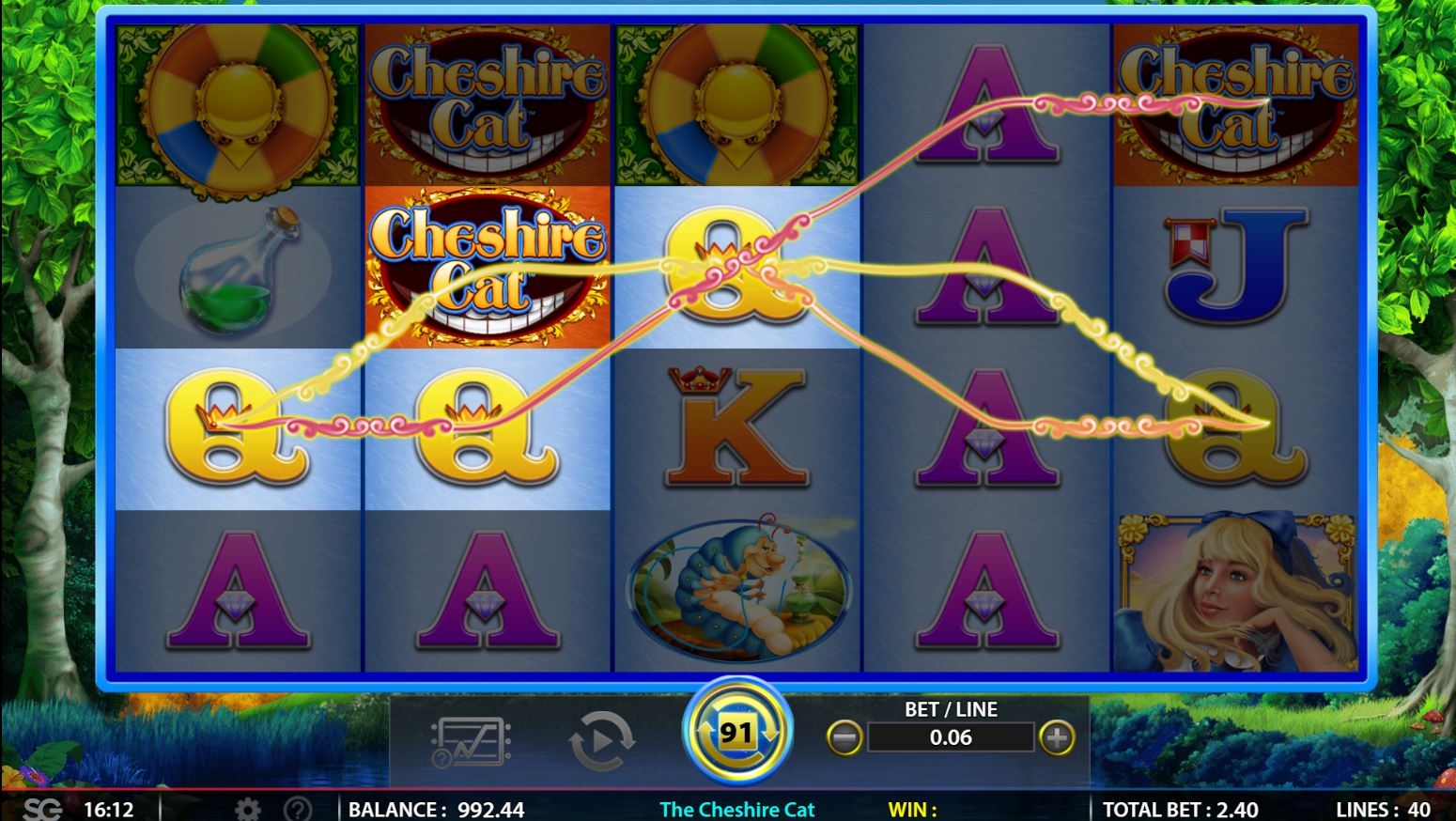 chesshire cat paylines
3 – How do payouts work?
A payout is the amount won on a certain spin. The total paid out varies depending on which symbols line up along the paylines. Certain symbols lining up pay out more than others depending on their rarity.
Players who pay more credits or coins per line can also pay out more. Low rollers may want to stick to smaller limits to make their money last longer. And just because a player may be paying more than one payline doesn't mean it's a wise move in the long run. Playing at lower stakes may be the best way to make you bankroll last.
The number of ways to win via the paylines can vary wildly depending on the game. Those with more paylines means players will have to wager on more paylines to take advantage of all these ways to win. Those with fewer paylines may save on the number of credits wagered per spin however. Here's an example of two popular Jackpot Party games as an example of how a player can wager.
Kronos: Father of Zeus
Paylines: 20

Maximum wager: 600 credits (total)

Maximum payout: 1,000 credits
Quick Hit Wolf Mountain 96
Paylines: 243

Maximum wager: 10

Maximum payout: 5,000x the bet
Notice that Koronos: Father of Zeus only features 20 paylines while Quick Hit Wolf Mountain 96 allows players to play as many as 243 lines. A player dropping one cent per line on Kronos is only gambling 20 cents per spin. This comes with fewer ways to win however.
A Wolf Mountain player at one cent per payline is actually playing $2.43 per spin if he or she plays the maximum number of paylines. This game offers much more in the way of payouts, but will cost a player more per spin.
Players have to balance the pros and cons of playing games with more paylines versus their own interest in seeing more winning opportunities at each session. The goal is to make some of those funds last longer so a player has a chance to find some wins along the way, hopefully some big ones.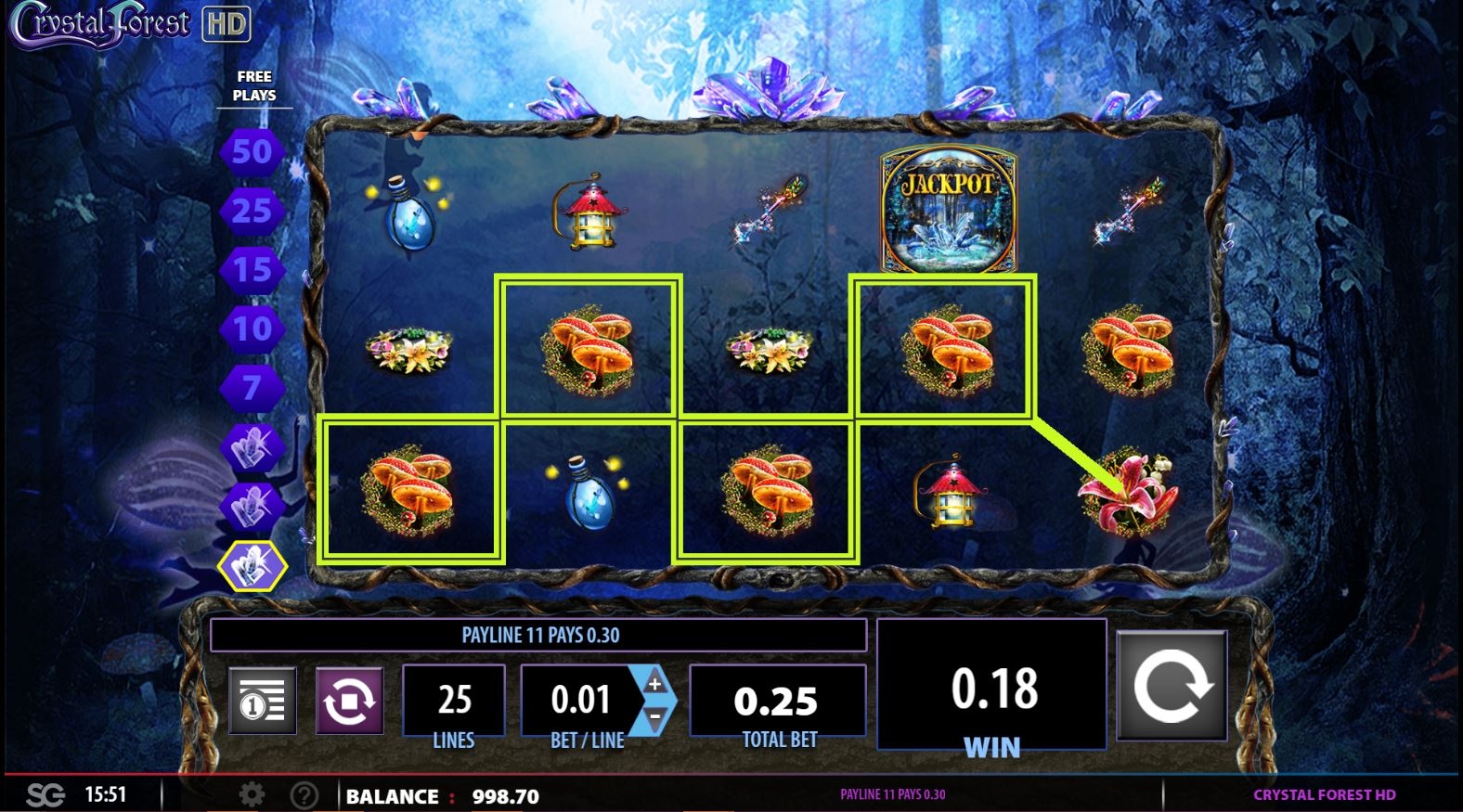 crystal forest paylines
4 – Other things to consider
The great thing about modern slots is that you don't have to be able to identify how all the symbols line up on the paylines to be rewarded with some winnings. After a spin all your wins will be displayed on the screen by the computer itself.
This can often be finding wins on numerous paylines – or sometimes no wins at all, meaning moving on to the next spin. And despite finding a winning spin, depending on the symbols lining up on the reels a player may not actually win enough to make up for the amount wagered on a certain spin.
For example, a player may wager one cent per line on the Quick Hit Wolf Mountain 96 game mentioned above. This equates to a total of $2.43 per spin. However, a player finding three wolves on the reels may only collect $0.40. This is a net loser, but if you find five symbols you'll earn 80x your wager and 60x for four.
Finding several wins on the paylines at once can certainly add to your bankroll. The opportunity to win on multiple paylines has been a major improvement to today's slot games, whether playing in a live casino or on an online platform like Jackpot Party.
5 – Frequently asked questions
What are stakes or limits on a slot?
This is the amount a player wagers per spin of the reels. Players can choose to play for as little as one cent per line with the overall amount wagered depending on the number of paylines offered on a game and the amount played per line.
What does the term "paylines" mean?
These are the ways in which the symbols on the reels must line up to reward some winnings. Older games that featured real mechanical reels only featured a few paylines, often simply horizontally across the face of the reels. But today's games allow for numerous paylines that go in many different directions. This means more ways to win, but as noted above, more credits wagered per spin.
What are some additional things that affect a player's payouts?
Wins depend on which symbols show up on the reels. Wild symbols can also be played interchangeably for winning symbols, allowing for winning paylines to be completed as these symbols substitute for other symbols on the reels. A losing spin may turn into a winner if a wild symbol positively completes a combination. Some symbols can also trigger other bonus games and other chances to win.