From tasty turkey and dressing to delectable desserts, players can now score some excellent rewards via Jackpot Party's new Platter Gather event.
Platter Gather allows you to spin and collect Thanksgiving dinner items for delicious rewards! Keep reading to find out how to grab your own share of these prizes and get in on the holiday excitement.
How Does Platter Gather Work?
Platter Gather offers players a chance to go beyond simply spinning reels on the slots. Those competing on qualifying slots can collect Thanksgiving items along the way.
Players will see the following pop-up as an introduction to the event: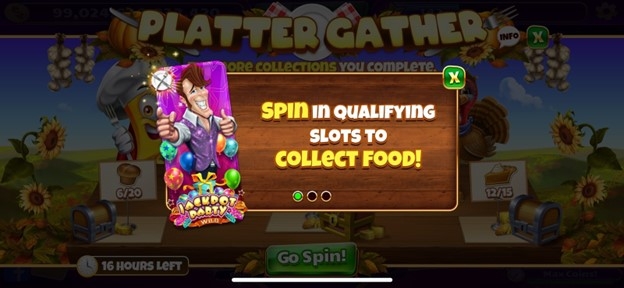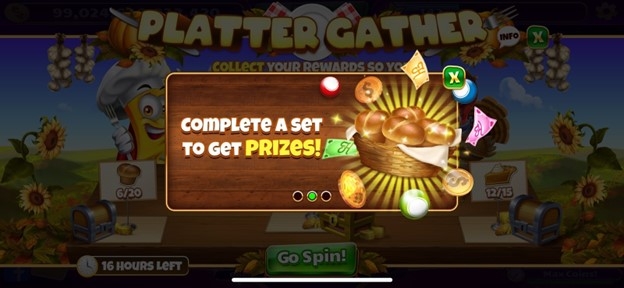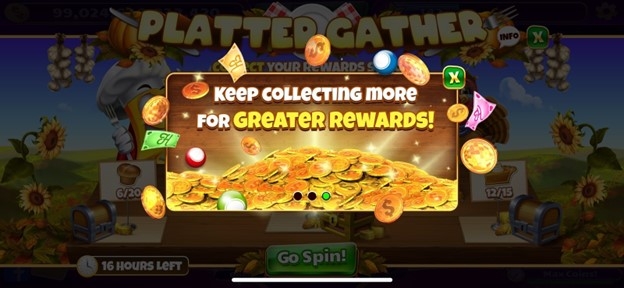 Which slots qualify?
Simply look for the plate and silverware icon in the top left corner of the qualifying slots as seen here.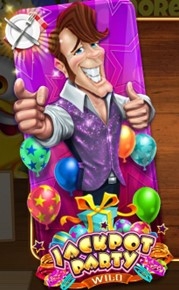 This allows players to gather some delicious dishes for the Platter Gather Thanksgiving meal such as:
Corn

Pumpkin pie

Canned goods

Rolls

Party pass

Coins
Players can live like the Pilgrims in Platter Gather with a nice winning Thanksgiving Dinner on the line. Those who score well may be giving thanks for their own good fortune at the slots.
Winning Ways
As you play and complete dinner sets to track your progress while spinning, a small icon to the right of your screen will pop out to let you know if a reward is ready to collect, share how much you've collected for a set and much more!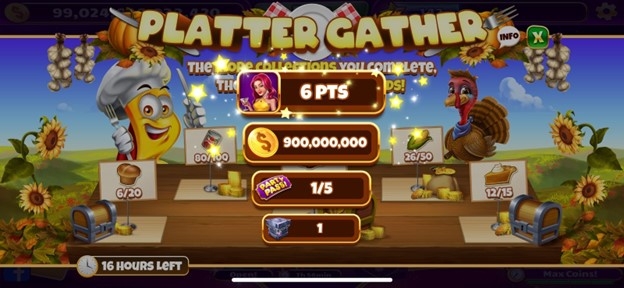 The bigger your bet, the likelihood of earning a food item increases. As you collect more food icons, graphical pop-ups will let you know your progress in collecting these platters.
Those who collect all of a certain items can then claim some big rewards – another reason for some Thanksgiving celebration.
The Platter Gather Quest Isn't Over
Those who go all the way and collect all their platters can still get in on the fun. Once a player has collected all the food items, an even bigger Thanksgiving awaits.
All food items then regenerate and players can continue their journey in collecting items for the perfect feast. Only now these items reward even more, allowing players to keep the fun going.
Jackpot Party's Platter Gather feature is the perfect addition to Thanksgiving for slot players. Look for those plate-and-utensil symbols on some of your favorite games – a hearty helping of rewards awaits. Good luck!